This latest release from the legendary FISM winner Bill Cheung will really make your eyes pop.... so just imagine how your spectators will react!
The set combines several rarely-used ideas of vintage gaff coins, and then puts them all together in an updated, killer routine! The gimmick involved is rare and few people today are familiar with it.
The effect is clean cut and simple: Three silver Morgan dollars change to ancient Chinese coins one by one, then once again change back to Morgan dollars. Sound familiar? Remember...the Morgan dollars don't have holes.... but the Chinese coins DO!
PLEASE take just a few moments to watch this jaw-dropping effect:
The very special coins are beautifully precision-machined and make the trick easy. The on-line video tutorial makes learning the routine a BREEZE.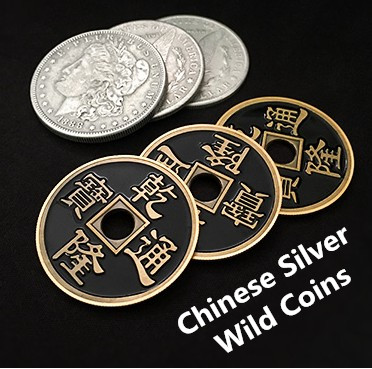 Comes complete with the beautiful replica Morgan dollar and Chinese coins and a link to the on-line video instruction.
Bill introduced this outfit after FISM and originally sold it for $150.00 US. He has since had a new batch made (in better quality!) and they sell for about $100.00 US. He's currently offering the sets on his site for $75.00 US and I'll match that price as long as he offers it at that price.

$75.00
PLEASE NOTE - If you are not ordering for U.S. delivery, you MUST contact me BEFORE ordering to determine shipping options and rates. The flat rate postage fee DOES NOT APPLY to orders shipped OUTSIDE the United States. Simply send me a list of the items you wish to order and I'll get back to you with the shipping options and rates. Once you decide how you'd like the order shipped, I can send a PayPal invoice directly to you (or we can work out other payment arrangements, if necessary). Thank you!
Chinese Silver Wild Coins
Product Code: CSWC - RB8
Availability: 1