Subtitled, "The History and Art of Ventriloquism"
Excellent book on vent! The history of vent is thoroughly covered from ancient times through today. Includes a chapter on how to do vent, but the real stars here are the history and the anecdotal material.
Val is an excellent writer and keeps you entertained and enthralled throughout. Even if you're not particularly interested in "ancient" vent history, it's a good thing to have general knowledge of. If you're a ventriloquist, sooner or later someone's going to ask you how vent as an Art form got started. Believe me, you don't want to embarrass yourself by saying that it all started when Jeff Dunham got a Mortimer Snerd dummy when he was 8!
Read this fascinating history and get an intelligent grounding in just what it is we do...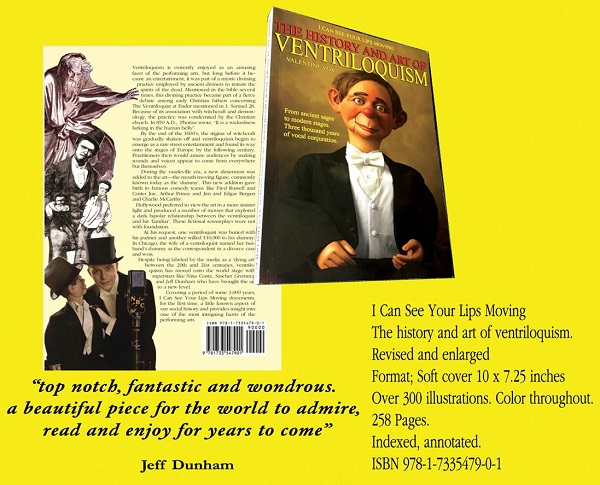 This is the revised and enlarged third edition, published just last year (2019). Book measures 7-1/4" x 10" and is perfectbound with full color pictorial wrap and color throughout. 258pp; more than 300 photos and illustrations.
$25.00
PLEASE NOTE - If you are not ordering for U.S. delivery, you MUST contact me BEFORE ordering to determine shipping options and rates. The flat rate postage fee DOES NOT APPLY to orders shipped OUTSIDE the United States. Simply send me a list of the items you wish to order and I'll get back to you with the shipping options and rates. Once you decide how you'd like the order shipped, I can send a PayPal invoice directly to you (or we can work out other payment arrangements, if necessary). Thank you!

I Can See Your Lips Moving - NEW 2019 Edition - Book by Valentine Vox
Product Code: ICSYLM - VB6
Availability: 3
Related Products
Tags: ventriloquism, Vox, history, how to