The magician shows a deck of jumbo-sized cards inside a snug-fitting black framework case. The jumbo cardbox is removed from the framework and the box is opened. A jumbo 52-on-1 card may be removed from the cardbox as part of a comedy card revelation, if desired. The jumbo deck is now placed back inside the case and after a snap of the fingers, the deck of cards is seen to have completely vanished!
Alternatively, a regular (poker-sized) deck of cards may now be produced from the framework case (or a card silk, or anything else that will fit into it).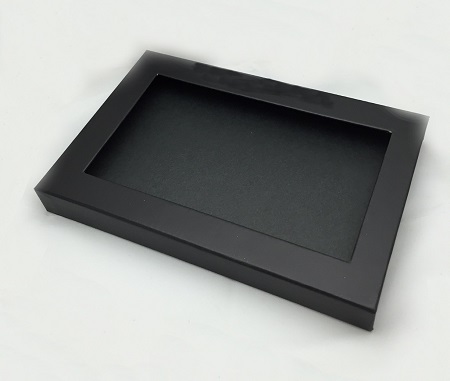 This is extremely easy to do (self-working!) and you'll be performing it within moments after receiving it.
Remember, you may remove a card from the cardbox before making it vanish.
Jumbo-sized; ideal for platform and stage performances. The retail price for this JUMBO version of the Vanishing Deck is $24.95. I sell it for only...
$19.95
PLEASE NOTE - If you are not ordering for U.S. delivery, you MUST contact me BEFORE ordering to determine shipping options and rates. The flat rate postage fee DOES NOT APPLY to orders shipped OUTSIDE the United States. Simply send me a list of the items you wish to order and I'll get back to you with the shipping options and rates. Once you decide how you'd like the order shipped, I can send a PayPal invoice directly to you (or we can work out other payment arrangements, if necessary). Thank you!









Vanishing Deck - JUMBO Size
Product Code: VDJS - MB7
Availability: 1