I think think this is just about as bizarre and as clever and they come! As Paul Harris might've said in the 70's, "This is a little slice of weird!"
Just imagine using a Sharpie pen to have a spectator's card selection signed - like you always do! - then by stretching the clip on the pen cap you get it to physically change it's shape and match the selection! This "little slice of weird" is EXACTLY what you are able to do with Polymorph! AND.... you can even let the spectator examine it!
Check out this amazing demo:
Polymorph is super visual and incredibly easy to perform. As is the custom of the day, it is totally "organic" magic that you positively won't want to leave home without!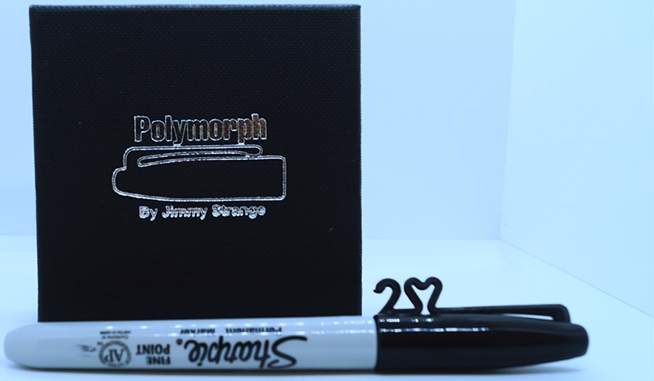 Package includes a high quality, custom gimmick with a link to an on-line video tutorial detailing the proper use plus multiple routines.
The manufacturer's suggested retail price for Polymorph is $34.95. Buy one from me for only....

$27.50

PLEASE NOTE - If you are not ordering for U.S. delivery, you MUST contact me BEFORE ordering to determine shipping options and rates. The flat rate postage fee DOES NOT APPLY to orders shipped OUTSIDE the United States. Simply send me a list of the items you wish to order and I'll get back to you with the shipping options and rates. Once you decide how you'd like the order shipped, I can send a PayPal invoice directly to you (or we can work out other payment arrangements, if necessary). Thank you!
Polymorph - Jimmy Strange
Product Code: P - MB19
Availability: 2