When I worked for Paul Diamond many moons ago, we imported this trick from viennamagic in Austria. We sold literally HUNDREDS of them annually. They were always a complete sellout at conventions. It's a GREAT trick.... it's a visual fooler -- you end CLEAN -- there's NO sleight of hand -- What's not to love?
How would you like to perform a visually stunning routine that has amazed millions of viewers on national television? "Royal Fantasy" did just that for Harry Anderson and it can do the same to your audience as well!
You display four European playing cards, all kings, and place them one at a time onto a spectator's hand. First the King of Hearts, then the King of Spades, next the King of Clubs and lastly, the King of Diamonds. After each card has been individually placed onto the spectator's hand, the four Kings instantly change into four spot cards of different values! Apparently the four kings were just a...(wait for it!).... Royal Fantasy!
The spectators see the entire face of each card before and after. The cards may be displayed back and front. You finish with just four cards; there are NO moves or counts. A truly original method for a truly astonishing climax!
FROM THIS...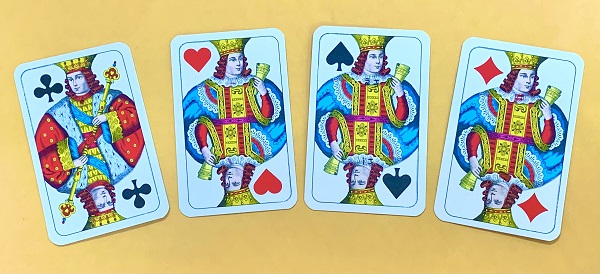 TO THIS...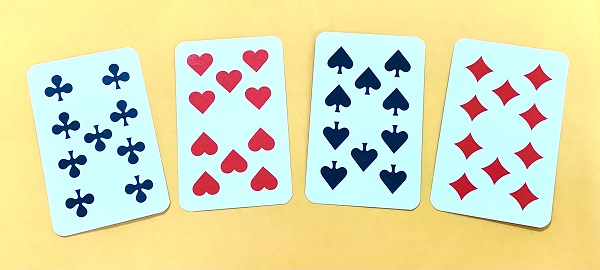 Viennamagic produced this for years under the inspiring name, "Card Trick". It's actually based on a Brother John Hamman concept, but Lubor Fielder has added the kicker to end all kickers.... you no longer have to go to a pocket or "steal" anything away...it's now completely self-contained! (Those who owned the viennamagic "Card Trick" will know exactly what I'm talking about.)
Comes complete with the beautiful European cards (measure approximately 2-1/2" x 4") and complete instructions.

This is as clean as a whistle and a real fooler! This is no longer being manufactured, but when it was last available, the suggested retail price was $19.95. Buy one today -while I still have a few - for only...
$12.50
PLEASE NOTE - If you are not ordering for U.S. delivery, you MUST contact me BEFORE ordering to determine shipping options and rates. The flat rate postage fee DOES NOT APPLY to orders shipped OUTSIDE the United States. Simply send me a list of the items you wish to order and I'll get back to you with the shipping options and rates. Once you decide how you'd like the order shipped, I can send a PayPal invoice directly to you (or we can work out other payment arrangements, if necessary). Thank you!
Royal Fantasy
Product Code: RF - MB20
Availability: 3
Related Products
Tags: cards, magic, Fiedler, trick, transformation