Some of you may remember the great little routine "Skull-o-cation" (also known as "Skullo") from many years back (back when we called them "pocket tricks"!) This is essentially the same overall effect, but with a different method that's been updated with high-tech electronics and dragged into the 21st century!
A deck of cards is shown and may be thoroughly shuffled (in fact, the deck may be borrowed!). A spectator selects a card from the deck (free selection), then removes an additional five or seven cards. This packet of cards is now mixed face-down and placed down onto the table, one at a time, in a row or two. The magician now brings forth a small skull, hanging from a keychain. Of course, at this point you can make the accompanying story as mysterious or as goofy as you wish. You hand the skull to the spectator and allow him (or her!) to slowly pass the skull over the back of each card. Eventually, when it is over one of the cards, the skull's eye sockets light up and a creepy laugh issues forth. You stop the spectator at this point and turn up all of the other cards..... they do not see their selection. Finally, you have them turn over the card the skull reacted to... it is their free selection!
Everything may be examined! As mentioned previously, the cards may even be borrowed. You'll fool most of your magician friends with this one!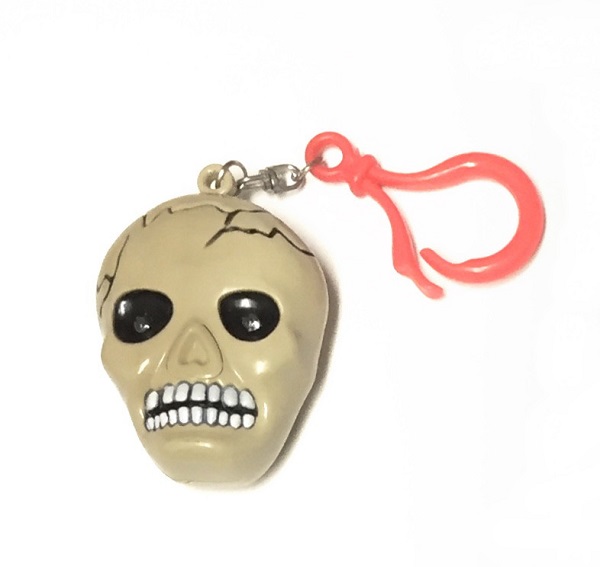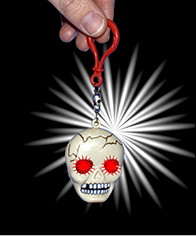 This one is easy to do and a real fooler! It's fun and will create a commotion, especially if you're performing at a bar....table-hopping...etc. It's reminiscent of Bob Ostin's "Beam Shot", as released by the late, great Ken Brooke.

Comes complete with the special skull, gimmicks, and complete instructions, all housed in a cool little wooden carrying box. (Note - Works with watch batteries which may be easily replaced when necessary.)

A LOT of entertainment for only...
$24.95

PLEASE NOTE - If you are not ordering for U.S. delivery, you MUST contact me BEFORE ordering to determine shipping options and rates. The flat rate postage fee DOES NOT APPLY to orders shipped OUTSIDE the United States. Simply send me a list of the items you wish to order and I'll get back to you with the shipping options and rates. Once you decide how you'd like the order shipped, I can send a PayPal invoice directly to you (or we can work out other payment arrangements, if necessary). Thank you!
The Mysterious Skull of William Nord
Product Code: TMSOWN - MB8
Availability: 1
Related Products