This was a premium offered briefly by Chase & Sanborn Coffee Company (sponsor of Bergen's hit radio show). You sent in one label from a package of Chase & Sanborn dated coffee plus ten cents and you got this ultra-cool adjustable "gold" ring featuring Charlie with his iconic top hat and monocle. Here's the original newspaper ad: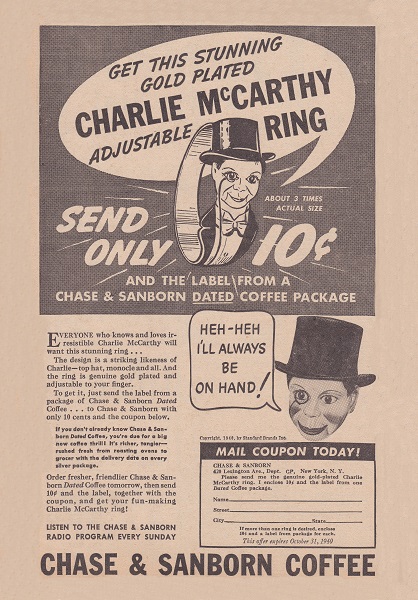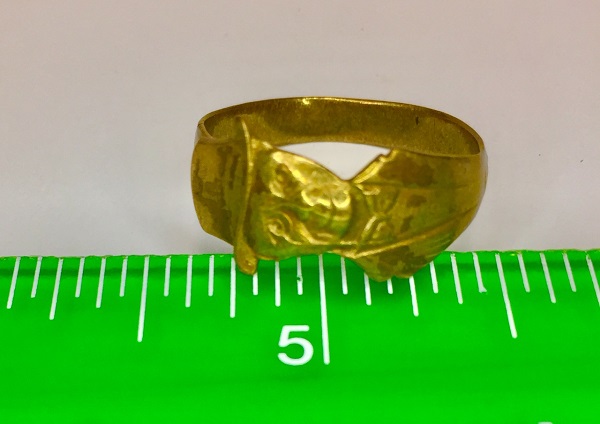 These rings are highly desirable by not only serious Charlie collectors, but also radio premium collectors. Thus, they are scarce, particularly ones in fine condition. Kids tended to bend these up, then lose them, so to find one in as fine a condition as this one is makes me happy. And now YOU have a chance to own a nice one, too! One of these recently sold at a Hake's Americana auction for $172.50 plus buyer's premium of 25%. You can own this one for only...

$95.00
PLEASE NOTE - If you are not ordering for U.S. delivery, you MUST contact me BEFORE ordering to determine shipping options and rates. The flat rate postage fee DOES NOT APPLY to orders shipped OUTSIDE the United States. Simply send me a list of the items you wish to order and I'll get back to you with the shipping options and rates. Once you decide how you'd like the order shipped, I can send a PayPal invoice directly to you (or we can work out other payment arrangements, if necessary). Thank you!

Charlie McCarthy Gold Ring - RARE
Product Code: CMGR - DD
Availability: 1
Related Products
Tags: Charlie McCarthy, ring, Bergen