I was digging in my storage unit today (climate-controlled, of course!) and found just less than a dozen of these in a box that hadn't been opened in probably 25 years! I got these from Shaun himself the last time I saw him, which was at the Florida State Magic Convention in 1994! I watched him demo this routine at his booth several times during the convention and fell in love with it. I eventually put it into my own banquet show using jumbo-sized cards, although it's just as funny using the poker-sized cards, as long as the audience isn't too far away. When these are gone, that's IT. I don't even know if Shaun sells them anymore, but I will not be re-stocking them...so don't miss out on this opportunity!

This wonderful "Do-As-I-Do"- style routine is based on the "Submarine Card" effect, but with a humorous ending. Basically, the spectator follows the magician's simple moves with four cards. Somehow, the magician's cards are always all face-down while the spectator ends up with one face-up card! Each time the spectator fails, a card is removed, yet he still fails to get the cards right! In the end, the trick is done .... would you believe .... with only one card .... yet still the magician's card is face-down while the spectator's is face-up!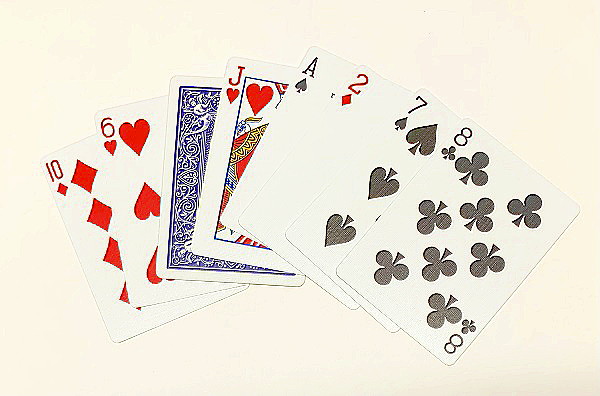 This routine is hilarious and entertaining! Best of all, it's EASY to do, thanks to the specially-printed gaff card. All you have to do is remember the easy sequence!
This can be your feature close-up effect, or it will even play in parlor and platform situations!
Supplied with poker-sized Bicycle cards and complete instructions.

NOTE -- This is in my "Used/Collectible" Category, meaning I have an EXTREMELY limited number... If you're interested, please do not hesitate!
A LOT of entertainment for only...

$8.95
PLEASE NOTE - If you are not ordering for U.S. delivery, you MUST contact me BEFORE ordering to determine shipping options and rates. The flat rate postage fee DOES NOT APPLY to orders shipped OUTSIDE the United States. Simply send me a list of the items you wish to order and I'll get back to you with the shipping options and rates. Once you decide how you'd like the order shipped, I can send a PayPal invoice directly to you (or we can work out other payment arrangements, if necessary). Thank you!
Comedy Card Routine - Shaun Yee
Product Code: CCR - MB20
Availability: 5