Here's the brilliant new trick that everyone's talking about! Imagine pulling a selected coin through a clear plastic bag, just inches away from a spectator's eyes!
Comes with very special coin and full instructional DVD.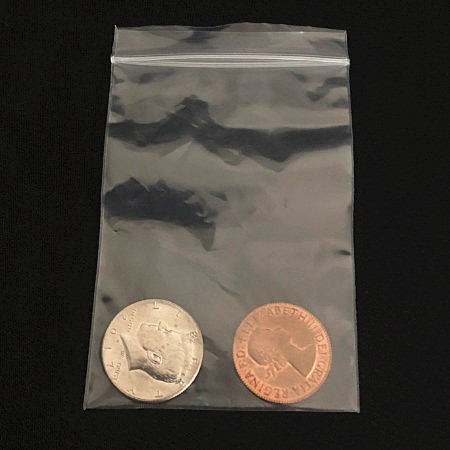 Personal note from Tom - This is quite a nice effect, particularly if you use a "giveaway coin" for the coin left in the bag. Or you could simply give away a penny! You can even give away the bag! If you don't recognize it from the various on-line demo's, this is the same as the Clone Coin - Split Coin - Ghost Coin. It is a U.S. Half Dollar. It is extremely well-made and may be used for many, many additional routines....coin thru bill, coin thru tie, etc.

Suggested retail is $59.95.
Own one today for only...
$34.50
PLEASE NOTE - If you are not ordering for U.S. delivery, you MUST contact me BEFORE ordering to determine shipping options and rates. The flat rate postage fee DOES NOT APPLY to orders shipped OUTSIDE the United States. Simply send me a list of the items you wish to order and I'll get back to you with the shipping options and rates. Once you decide how you'd like the order shipped, I can send a PayPal invoice directly to you (or we can work out other payment arrangements, if necessary). Thank you!
Bag 4 Life - Mark Bendell - U.S. Half Dollar Version
Product Code: B4L - RB1
Availability: 2
Related Products