Here's a SCARCE ventriloquial figure catalogue from long-time U.S. figure maker "Finis & Company" (Finis Robinson). This photographically illustrated catalogue from 1953 features full-sized vent figures, mini figures, walking figures, novelties (including talking canes, pocket figures, etc.), hand puppets, finger puppets, marionettes, their courses, and much more.
Measures approximately 5-1/2" x 8" and is 29 printed pages in total (there are actually many more pages, but I'm not counting the blank ones!). Finis and Annamay assembled each of their catalogs by hand, so you'll find blank pages in odd places. That's not a fault of this particular catalog...they were ALL that way!
This catalog was originally printed in 1953. Finis used the same catalogues for years, and this one has an undated note pasted onto the first page that notifies the purchaser of the first price raise in 5 years. Also has list of scripts for sale pasted into the back of the catalogue.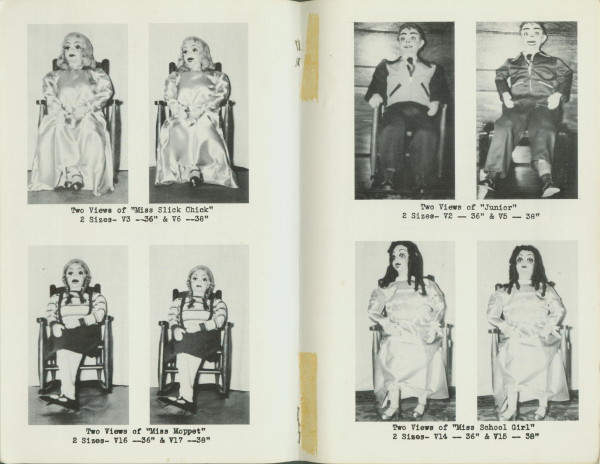 Finis' catalogs are great fun to read. Even into the 90's, Finis' catalogs always evoked memories of a past time. His printed offerings were always fascinating, just like his craftmanship.
This SCARCE 1953 Finis catalog is in VERY FINE + condition with very minor age spotting on some pages. Address sticker on front partially torn off and previous owner's name stamped on front. Will be supplied in an archival mylar sleeve with acid-free backboard. SCARCE!
$25.00
PLEASE NOTE - If you are not ordering for U.S. delivery, you MUST contact me BEFORE ordering to determine shipping options and rates. The flat rate postage fee DOES NOT APPLY to orders shipped OUTSIDE the United States. Simply send me a list of the items you wish to order and I'll get back to you with the shipping options and rates. Once you decide how you'd like the order shipped, I can send a PayPal invoice directly to you (or we can work out other payment arrangements, if necessary). Thank you!
Finis Robinson 1953 Catalog of Ventriloquial Figures
Product Code: FRVFC53 - VB12
Availability: 1
Related Products
Tags: ventriloquism, ventriloquist, puppets, figures, Finis, Robinson