A magician with a prophecy envelope in his hand asks a spectator to name any hour. In the envelope, there is a photo frame with an image of a clock that has been photographed earlier. The magician takes out the frame and show the image to the audience. The clock indicates the hour that was called by the spectator!
Masuda's 'Frozen In Time' has been vastly upgraded thanks to Swedish magician Lars-Peter Loeld's brilliant idea. The prop has been enabled to be handed out and fully examined by the spectators. Thus, the effect is more mysterious than ever.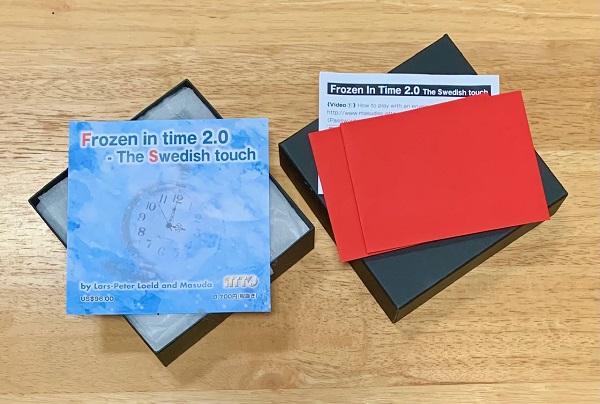 An acrylic photo frame gives the prop a luxurious feel. Instruction is provided through a video. You can watch the explanation video by scanning the QR code in the package. (Note: envelopes are not included.)
NOTE - This is in my "used/collectible" category, which means I have only this ONE. When it sells, I do not know when or even IF I will have another. If you're interested in it, please do not hesitate to buy it now!
This on is BRAND NEW and unused. Retail is $96.00. Own it for only....

PLEASE NOTE - If you are not ordering for U.S. delivery, you MUST contact me BEFORE ordering to determine shipping options and rates. The flat rate postage fee DOES NOT APPLY to orders shipped OUTSIDE the United States. Simply send me a list of the items you wish to order and I'll get back to you with the shipping options and rates. Once you decide how you'd like the order shipped, I can send a PayPal invoice directly to you (or we can work out other payment arrangements, if necessary). Thank you!
Frozen in Time 2.0 - The Swedish Touch
Product Code: FIT - TSB
Availability: 1