The Himber Wallet is a change device for flat card and paper items, like currency notes or bills, playing or visiting cards, pay envelopes, paper slips and the like.
The Himber wallet is superior to most other switch wallets, card boxes etc., due to the fact that only items on one side of the wallet change while contents on the opposite panel stay the same.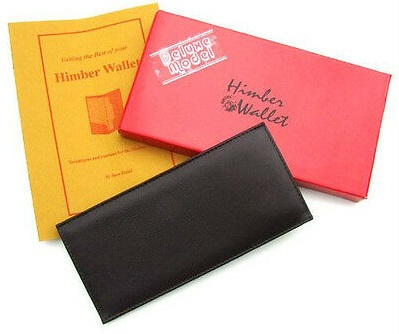 This imported Himber Wallet is made from genuine Leather, and comes complete with a 16 page instruction booklet with instructions for handling the wallet and a number of superb routines you can perform with it.
Suggested retail price is $34.95. Buy one today for only....

$29.50

PLEASE NOTE - If you are not ordering for U.S. delivery, you MUST contact me BEFORE ordering to determine shipping options and rates. The flat rate postage fee DOES NOT APPLY to orders shipped OUTSIDE the United States. Simply send me a list of the items you wish to order and I'll get back to you with the shipping options and rates. Once you decide how you'd like the order shipped, I can send a PayPal invoice directly to you (or we can work out other payment arrangements, if necessary). Thank you!
Himber Wallet - Leather - Import
Product Code: HW~L - MB20
Availability: 1
Related Products