BACK IN STOCK!

This timeless prop was described by Professor Hoffmann on page 130 of "Modern Magic", making it well over a hundred years old! dozen decades old. But the item is every bit as effective today as it was over a century ago. It has an element of surprise and audience participation that is bound to get a reaction, even from people easily bored with card tricks.
Up to three cards are selected from an ordinary deck of cards. The cards are returned to the deck. The deck is shuffled and placed in an attractive wood houlette. You pick up the houlette and walk into the audience. Within inches of the audience, you ask someone to simply blow on the box, apparently to make the selected cards rise. But it seems they blew too hard! Instantly, the chosen cards fly out of the box and flutter to the stage!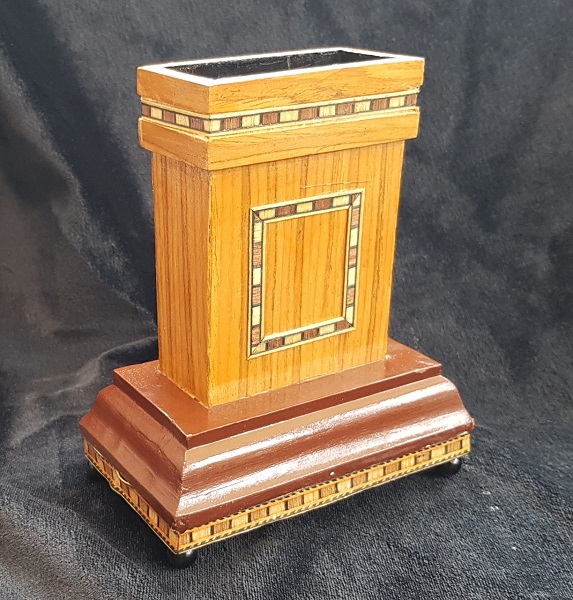 No threads, no hook up. No motors, no sand. This is an intriguing and entertaining prop for your act. (If you have Hoffmann's "Modern Magic", you can check it out)
Quality prop, in wood, with beautiful inlay trimmings, and durably polished. This is an attractive and practical prop the "Professor" would no doubt have approved of!
Comes complete with instructions – use your own deck of cards.
A deal at $49.95.... but you can order it today for only..

$34.95

PLEASE NOTE - If you are not ordering for U.S. delivery, you MUST contact me BEFORE ordering to determine shipping options and rates. The flat rate postage fee DOES NOT APPLY to orders shipped OUTSIDE the United States. Simply send me a list of the items you wish to order and I'll get back to you with the shipping options and rates. Once you decide how you'd like the order shipped, I can send a PayPal invoice directly to you (or we can work out other payment arrangements, if necessary). Thank you!
Hoffman's Jumping Card
Product Code: HJC - MB13
Availability: 1