All the action takes place in the spectator's pocket - not yours!

For those who don't know; the Horwitz Wallet enables the performer to perform a number of effects including the Miracle Card in Wallet effect. What makes this wallet so different that all the changes and the tricky business all takes place when the SPECTATOR places the wallet in his own pocket! Everything is done openly and there is NO palming involved.
This wallet has inspired a number of effects, many of which are in the book of instructions. There is a brilliant Just Chance with Bank Notes and Envelopes which are burned.
Beautifully made in black leather, yet innocuous enough so as not to draw attention to itself, the wallet instantly feels "just right"! The 20 page instruction booklet includes interesting background information, together with five powerful routines to get you started: Signed Card in Wallet, Just Chance Routine, Mind Control, Mental Hypnotic Pickpocketing (requires two wallets, or one Horwitz and one mock-up) and Do as I Do Gamble.
But the wallet's really more than just "five routines" - it's a brilliantly simple and very versatile prop, that you'll be just as happy to use (very) close-up or on stage, for magic or 'mental' presentations. And it's one with which you can perform real miracles...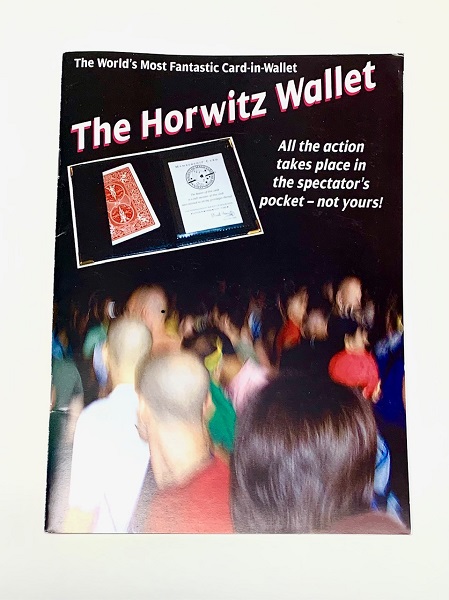 Now out of production. This one is new/old store stock. It was never opened OR used! It is in BRAND NEW condition!

This is in my "Used/Collectible" category...I have ONE ONLY. When this one sells, I do not know when or even IF I will ever have another. If you're interested in it, please do not hesitate!

$74.95
PLEASE NOTE - If you are not ordering for U.S. delivery, you MUST contact me BEFORE ordering to determine shipping options and rates. The flat rate postage fee DOES NOT APPLY to orders shipped OUTSIDE the United States. Simply send me a list of the items you wish to order and I'll get back to you with the shipping options and rates. Once you decide how you'd like the order shipped, I can send a PayPal invoice directly to you (or we can work out other payment arrangements, if necessary). Thank you!
Horwitz Wallet - Basil Horwitz/Martin Breese (England)
Product Code: HW - TSB
Availability: 1
Related Products