Here's a RARE one! In more than forty years of collecting, I've seen less than half a dozen of these.
This is a brief overview of ventriloquism by the biggest vent star in British show business at that time. Coram was not only a fantastic vent, he was an innovator, having come up with several new ideas at the time in ventriloquial presentation that are now considered standard.
This book was published by the London Magical Company, circa early 1920's. Includes tipped-on cover photo of Coram with his partner, "Jerry Fisher." Pages inside are enameled paper. Outer cover is light cardstock. Inside front cover has a full page ad for Will Goldston's vent figures and the Arthur Prince book. Back inside cover has a full page ad for Davenport vent figures. Back outer cover is a full page ad for Gamage's vent figures.
Condition-wise - the cover detached at some pointed and was taped back into place. The cover has general wear and corner chipping with minimal loss (no print affected). The cover photo of Coram has creasing. I believe this may have been in some sort of library at one time. RARE! In spite of all of the issues listed, due to the rarity of this title, I'd say the condition is overall GOOD.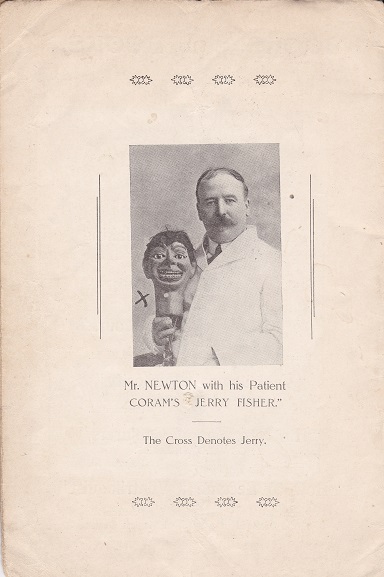 20pp, 6" x 9" softcover. Comes in an archival mylar sleeve with acid-free backboard for protectiion.
$35.00
PLEASE NOTE - If you are not ordering for U.S. delivery, you MUST contact me BEFORE ordering to determine shipping options and rates. The flat rate postage fee DOES NOT APPLY to orders shipped OUTSIDE the United States. Simply send me a list of the items you wish to order and I'll get back to you with the shipping options and rates. Once you decide how you'd like the order shipped, I can send a PayPal invoice directly to you (or we can work out other payment arrangements, if necessary). Thank you!

How To Become a Ventriloquist - Book by Tom Coram
Product Code: HTBAVC - VB10
Availability: 1
Tags: ventriloquism, Coram, how to, ventriloquist