AFRICAN WENGE WOOD MAGIC WAND with BRASS TIPS
I'm extremely pleased to be able to offer these wonderful new wands to you. They are the classic magician's design....a solid wooden shaft with solid brass tips. Each wand is perfectly weighted for the Vernon wand spin. The wands are handmade of select exotic hardwoods by a master craftsman.
I have these available in three different woods: AFRICAN WENGE WOOD Wand with Brass Tips - Usually pronounced WHEN-gii or WHEN-ghay, this wood has excellent strength and hardness properties. This wood features a lustrous medium brown color. It is often compared color-wise to brown oak.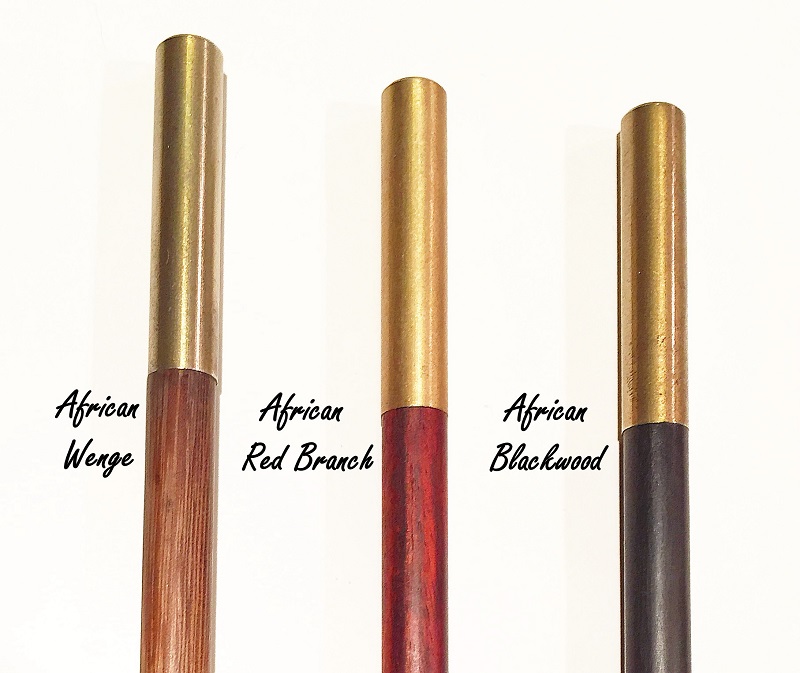 These exotic wood wands are in very short supply. When they are gone, I do not know if I will be able to get more (I ordered more than I got as it is). Don't pass up this rare opportunity to own a quality wand made from an exotic hardwood at a reasonable price. Each wand measures 13-1/4" in length by 3/8" in diameter, and is supplied in its own protective sleeve.
Please see my other listings (links below) for other exotic hardwood wands.
The suggested retail price for these lovely wands is $34.95 each. While they last, you may buy them for only...
$24.95
PLEASE NOTE - If you are not ordering for U.S. delivery, you MUST contact me BEFORE ordering to determine shipping options and rates. The flat rate postage fee DOES NOT APPLY to orders shipped OUTSIDE the United States. Simply send me a list of the items you wish to order and I'll get back to you with the shipping options and rates. Once you decide how you'd like the order shipped, I can send a PayPal invoice directly to you (or we can work out other payment arrangements, if necessary). Thank you!
Magic Wand - African Wenge Wood with Brass Tips
Product Code: MWAW - MB19
Availability: 4
Related Products