Here's another great vintage Winchell/Mahoney toy circa mid-1950's!
If you were a Winchell/Mahoney fan during the mid 50's, you just HAD to have one of these cool talking hats! Jerry's face is made of a light styrene plastic (the stuff Halloween masks used to be made of) and has a weighted mouth so you can manipulate the hat to make the mouth move. I've handled a number of these over the years, and it's more common to find one with the mouth that doesn't work than one that does. This one WORKS! The little weight is still present so the mouth still opens and closes as it should.

The hat part is wool and as is also common with these, there are several small moth holes. Still, if you place some dark cloth inside the hat to fill it out for display, the holes are not even visible.
Measures approximately 7" high by about 5" wide. Small moth holes in hat as mentioned above, but Jerry's face is fine (no splits!) and the color is good. Best of all, the mouth still works.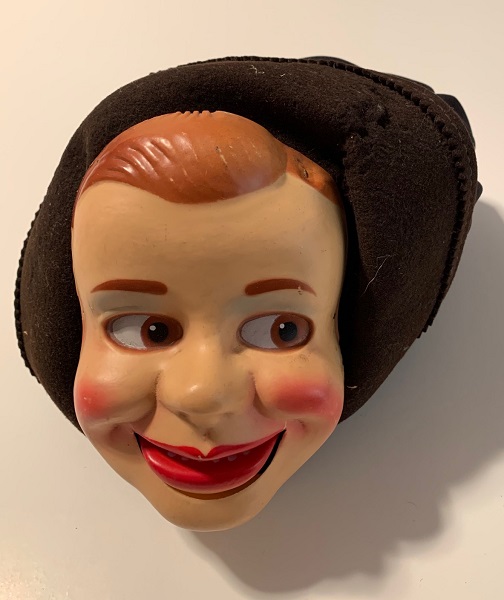 These cool old hats are really clever... they were manufactured by the Benay-Albee Novelty Company in Brooklyn. These are the same people who introduced the propeller beanie to the world, but are probably most famous for manufacturing the original Mickey Mouse "Mouseketeer" mouse ear hats!
This one will look GREAT in your collection!
$25.00
PLEASE NOTE - If you are not ordering for U.S. delivery, you MUST contact me BEFORE ordering to determine shipping options and rates. The flat rate postage fee DOES NOT APPLY to orders shipped OUTSIDE the United States. Simply send me a list of the items you wish to order and I'll get back to you with the shipping options and rates. Once you decide how you'd like the order shipped, I can send a PayPal invoice directly to you (or we can work out other payment arrangements, if necessary). Thank you!

Jerry Mahoney Talking Beanie Hat
Product Code: JMTB - VB7
Availability: 1
Related Products
Tags: ventriloquism, Winchell, Maohney, puppet, toys, vintage, beanie, hat