Here's a lovely slim wand that is not only an elegant accessory for the close-up entertainer, but it serves a utilitarian function, too... it's also an ink pen!
This beautiful new must-have magician's accessory measures only 9-7/8" in length and 3/8" in diameter. It will easily fit into a man's shirt pocket. Of course, you can carry it anywhere you want...including a trouser pocket!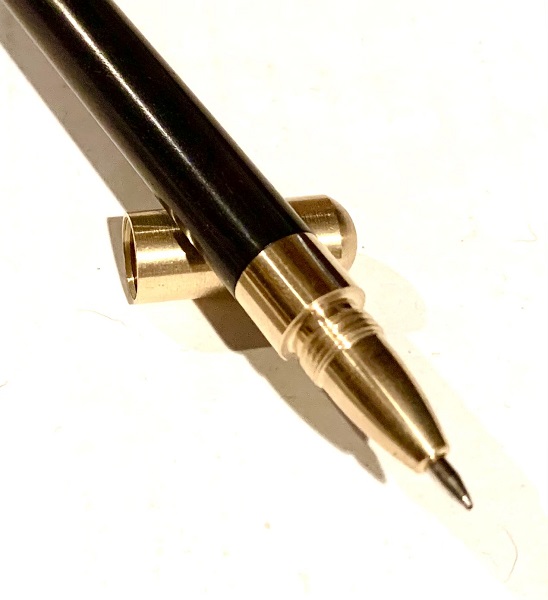 The body of the wand is crafted in a dark hardwood, with the tips being shiny brass. Both ends are hollow...one to allow the pen point, and the other can conceal tiny magnets, if you so choose (no magnets supplied).

Recommended retail for this elegant close-up wand is $24.95. It looks like the ink cartridges in most of these have dried up. I don't know if you can find a replacement or not, SO.... I'm letting these go at a BARGAIN price. Just tell yourself you're buying a VERY nice close-up wand, and if the pen works, you got a BONUS! ...
SPECIAL BARGAIN Price -- $9.95

PLEASE NOTE - If you are not ordering for U.S. delivery, you MUST contact me BEFORE ordering to determine shipping options and rates. The flat rate postage fee DOES NOT APPLY to orders shipped OUTSIDE the United States. Simply send me a list of the items you wish to order and I'll get back to you with the shipping options and rates. Once you decide how you'd like the order shipped, I can send a PayPal invoice directly to you (or we can work out other payment arrangements, if necessary). Thank you!
Magic Wand Pen - Deluxe
Product Code: MWP~D - MB7
Availability: 2
Related Products