I'm very happy to be able to offer these original Irv Furman Money Paddles to my customers. Quantity is extremely limited.
Show a lovely teak wood paddle to be blank on both sides... Explain that this paddle is special and there is a reason for the three black bands around it. These bands are "money bands". Borrow a penny, a nickle and a dime from your audience (or you may use your own). Take the penny and slip it under the band furthest away from the handle. Wave your left hand over the paddle and show that there are now two pennies - one on each side of the paddle. Explain that this may be done with any coin as you pick up the nickel and slip it under the middle band. A wave of your left hand and there are now two nickels! Finally, take the dime and slip it under the band closest to the handle, then wave your left hand to produce a second dime. Now you remove all six coins from the paddle. Once again show the paddle blank and wave it over the coins, then wave your left hand over paddle....suddenly, a $100 bill appears on one side of the paddle. Another wave of the paddle, and a $100 bill has appeared on BOTH sides of the paddle! State that you don't wish to be greedy, so you make one of the $100 bills vanish, leaving a bill on one side only. Remove the bill and open it out to show it fully, then remove the three bands on the paddle. Ask the spectators if they know how the magic happened. The paddle is now guien a shake and magically, mirrors running the length of the paddle appear on BOTH sides! "Surely you must know we magicians always use mirrors!"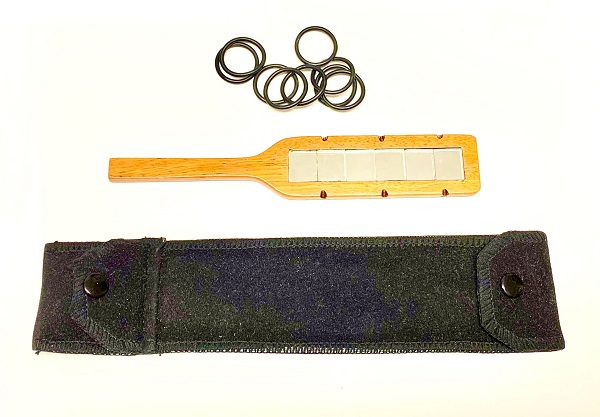 About 7-8 years ago, I bought several boxes of old stock that had come from the late Irv Furman's magic shop ("Hocus Pocus") in Philadelphia. There were a number of these money paddles that Irv had commissioned a local wood worker to make for him. They're extremely well-made from teak and are supplied in their own carrying case with a separate pocket for the elastic bands. I have less than a dozen sets left in stock at this point.
When Irv originally sold these, he included a DVD entitled
"Irv's Paddle Magic"
in which he teaches the paddle move, plus a couple of paddle tricks, and finally the routine for this money paddle. It's great to see Irv perform and you get some nice glimpses of his old shop. It's a wonderfully "low-rent" production and brings a smile to my face whenever I watch it. I acquired the master DVD and have uploaded it to my private YouTube channel. When you buy one of these cool paddles, you'll also receive a card with a link to Irv's original video tutorial. I did not edit it...I left it just as Irv sold it...warts and all!
This Money Paddle is top quality and the routine is dynamite. This is a LOT of magic to get from a single paddle!
When these paddle sets are sold, that' *it*. No more. Don't miss out on one of these great collectible tricks.
Includes the special teak wood paddle, heavy carrying pouch, elastic bands (plus extras) and link to Irv's original video tutorial.

Retail price is $24.95. Get one while they last for only...
$18.95

PLEASE NOTE - If you are not ordering for U.S. delivery, you MUST contact me BEFORE ordering to determine shipping options and rates. The flat rate postage fee DOES NOT APPLY to orders shipped OUTSIDE the United States. Simply send me a list of the items you wish to order and I'll get back to you with the shipping options and rates. Once you decide how you'd like the order shipped, I can send a PayPal invoice directly to you (or we can work out other payment arrangements, if necessary). Thank you!
Money Paddle - Irv Furman
Product Code: MP - CT1
Availability: 2