This wonderfully realistic set of full-sized sponge bananas really has *appeal* (get it?)! Long unavailable, sponge foam multiplying bananas are available once again, and THESE look incredibly realistic from even a short distance!
In the "classic" routine, you start with an empty bag, then pull out one banana, then another, then another, etc.! At the end, you make the bananas vanish! Or, you can make the bananas multiply one by one in your hands, each time placing one in a bag. At the conclusion of all of the productions, you show the bag is now completely empty! OR you can show the bag is now full of something entirely other than bananas!
You can use these bananas to produce from unexpected places. You could reach into your jacket pocket and pull out a banana... or a whole STRING of bananas! Or produce one from a spectator's jacket pocket and compliment him on bringing his own lunch!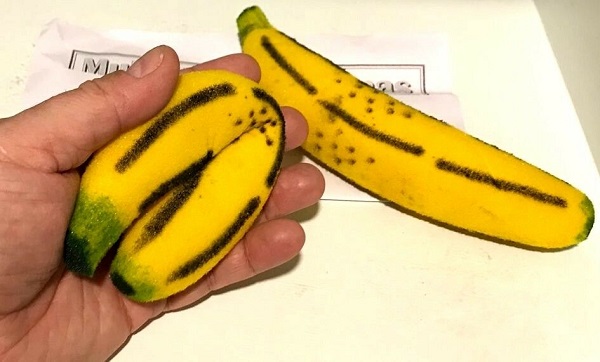 It doesn't take much creativity to come up with LOTS of crazy comedy ideas with this fantastic set of realistic sponge bananas! Very nice quality-made set of bananas, made from the proper density foam and with wonderful coloring.
Regular retail price for this set is $19.95. I offer them for...
$14.95
PLEASE NOTE - If you are not ordering for U.S. delivery, you MUST contact me BEFORE ordering to determine shipping options and rates. The flat rate postage fee DOES NOT APPLY to orders shipped OUTSIDE the United States. Simply send me a list of the items you wish to order and I'll get back to you with the shipping options and rates. Once you decide how you'd like the order shipped, I can send a PayPal invoice directly to you (or we can work out other payment arrangements, if necessary). Thank you!
Multiplying Bananas
Product Code: MB - MB18
Availability: 2
Tags: Multiplying, magic, trick, comedy, banana, bananas, sponge