MULTIPLYING MARTINIS - Ken Brooke

Here's a fine set of Multiplying Bottles from the legendary Ken Brooke of Great Britain. These top quality bottles have not been available for a number of years.
This set is made the *proper* way (unlike most sets available today with only two nests of multiple bottles). There are *three* nests of three bottles each, allowing one to Ken Brooke's classic comedy routine (look for Ron Wilson or Denny Haney performing this on YouTube). The Brooke routine requires only nine bottles (three nests of three). These bottles also have an important design feature not duplicated on almost any other type of nesting bottle set. The two larger bottles in each nest each have a "lip" on the mouth. This "lip" enables you to reach into the top of the tube with one finger and pull out one, two, or all three bottles. You can discern instantly how many bottles you're lifting, due to this unique "lip".

The tubes are PVC and have been covered with a flocked red material.
The bottles are a nice, heavy gauge spun aluminum. They have a high gloss finish that look like glass. This is a beautiful, high quality set with features clearly designed for the working pro.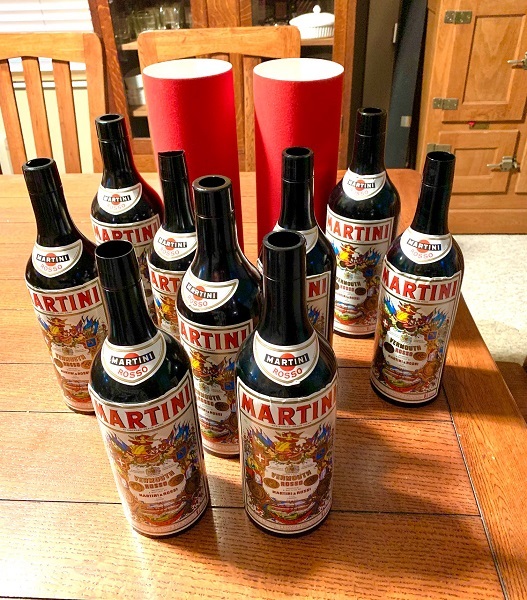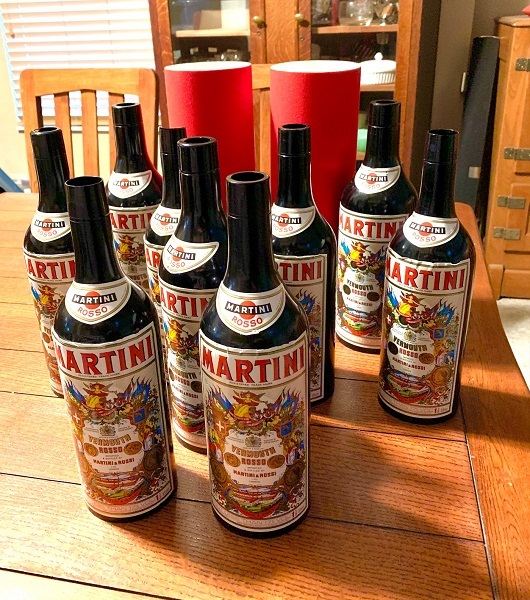 I do not believe this set has ever been used. It does not show the usual ding and scratches a working set would have. That said, it has two small flaws which I believe were manufacturing defects....not damage. These flaws do not affect the working, not are they visible to an audience. I've tried to take extreme close-up photos (shown below) to show these areas. In one nest, the smallest bottle has a slight "dip" in the mouth of the bottle. The next larger bottle (middle bottle of the nest) has a small hole just under the lip of the mouth.This appears to me to be the result of bearing down too hard with a polisher and accidentally going right through the metal. The metal around the hole (including the lip itself) is solid and I do not believe there is any structural weakness. If one desired, I imagine it would be fairly easy to smooth some epoxy on the inside of the lip to fill the hole and make it smooth again. Again, these minor flaws do NOT affect the working of the set at all, nor are the flaws visible to an audience. You will be the only one who knows they are there!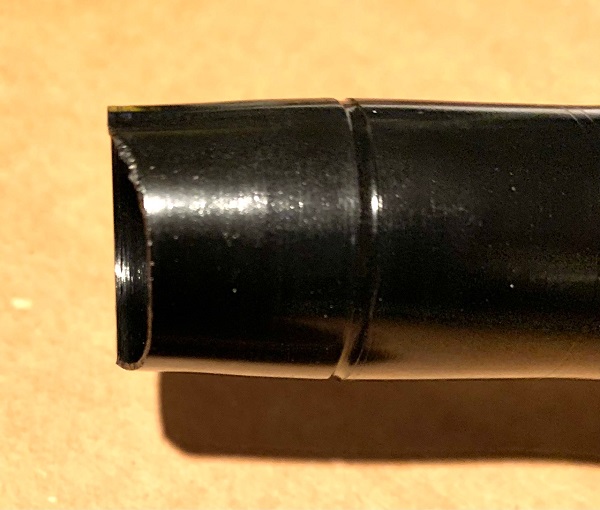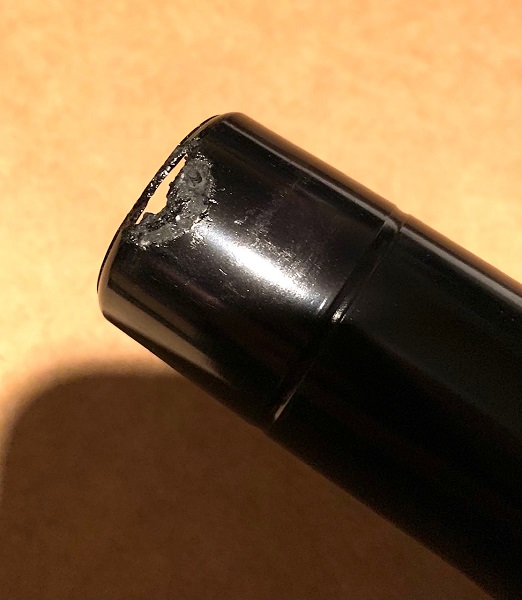 I will include a photocopy of the seminal Ken Brooke routine, which should be the jumping off point for any serious student of this classic effect. I'll also include instructions for the classic "Passe Passe Bottle" effect. You must provide your own glasses (available in virtually any dollar or thrift store).

PLEASE NOTE - This is in my "Used/Collectible" category. I have the one set ONLY. If you're interested in it, please do not hesitate. Once it sells, I do not know when or even IF I will ever have another....
ALSO NOTE - There will be a slight additional charge for shipping this set due to size and weight. Please contact me BEFORE ordering to discuss shipping options and fees.
Denny Haney closed his act with this effect for many years. It is one of the finest comedy presentations around, and the Ken Brooke bottles were generally considered by those who knew to be the "Rolls Royce" of multiplying bottle sets. I've seen original Ken Brooke sets sell at auction for $750.00 and up in recent years. They are *that* desirable. Please contact me if you have any questions about this rare set.
Due to the two minor flaws on this set, I'm offering them at a major discount....

$599.95

PLEASE NOTE - If you are not ordering for U.S. delivery, you MUST contact me BEFORE ordering to determine shipping options and rates. The flat rate postage fee DOES NOT APPLY to orders shipped OUTSIDE the United States. Simply send me a list of the items you wish to order and I'll get back to you with the shipping options and rates. Once you decide how you'd like the order shipped, I can send a PayPal invoice directly to you (or we can work out other payment arrangements, if necessary). Thank you!
Multiplying Martinis - RARE Ken Brooke set
Product Code: MM~KB - MBSid
Availability: 1
Related Products
Tags: Multiplying, Martinis, Bottles, magic, trick, illusion, pro, Brooke