Here's a truly delightful version of the time-honored classic "Okito Coin Box".
There are a number of different Okito box designs available, and virtually all of them are machined from brass. This one is hand-turned exotic wood, with a decorative brass inlay! It's not only a pleasure to hold and to use, but a pleasure to see!
What is an Okito Box? It's an ungimmicked container with a bottom and a loose-fitting lid. There are no gimmicks, nor are there any secret compartments. The magic is pure sleight of hand - and it's really all about the clever way this box operates when it is handled properly. This is an amazingly versatile coin magic effect that has lots of potential, and lots of routines!
This small wooden box is designed to be used with U.S. Half Dollar coins and may be used to make the half dollars vanish, appear, multiply, travel, etc. While the box itself is not gimmicked, it is cleverly designed to help you perform some truly amazing coin tricks. To your spectators, it appears to simply be a small box to hold coins. In your hands, however, coins change places, vanish, penetrate, and appear in the box.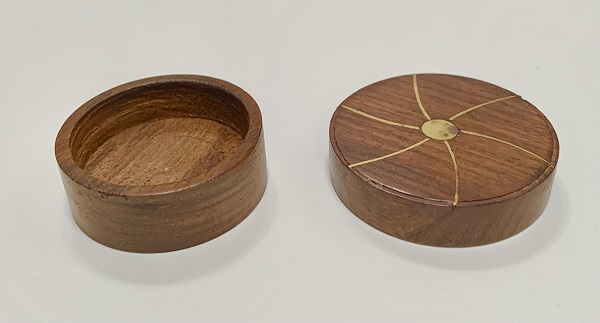 You can polish it, stain it, or just let it take on the rich patina that comes with constant use. Either way, it looks great! This exotic wooden Okito Box comes with printed instructions from the manufacturer. Please note -- this box uses US half dollar coins which are NOT included...you must provide them.
Also please note.... if you're already familiar with Okito Coin Box work, you'll find that this box is slightly different. The lid tends to have more of a "snug" fit than on most usual Okito Boxes. This is easily compensated for in the handling and routining. That said, if you want the lid to have a "loose fit", you may easily achieve this with some fine grain sandpaper and just a few moments' time.
Comes complete with the lovely exotic wood Okito box, matching lid, and instructions -- all packaged together in a box.

$9.95
PLEASE NOTE - If you are not ordering for U.S. delivery, you MUST contact me BEFORE ordering to determine shipping options and rates. The flat rate postage fee DOES NOT APPLY to orders shipped OUTSIDE the United States. Simply send me a list of the items you wish to order and I'll get back to you with the shipping options and rates. Once you decide how you'd like the order shipped, I can send a PayPal invoice directly to you (or we can work out other payment arrangements, if necessary). Thank you!
Okito Coin Box - Exotic Wood
Product Code: OCBEW - CC
Availability: 1
Related Products
Tags: Okito, Coin, Box, coins, magic, trick, tricks, penetration, wood