This is a recent re-release of the classic Supreme kidshow trick, "Bunny Tip Top". The original was invented by Ian Adair and British kidshow legend Johnny Geddes.
This new version retains the charming look and feel of the original Supreme graphics, and in addition it is sturdily constructed to stand up to the heavy use of kidshow performances. The effect is a classic among kidshow cognoscenti: A long cardboard envelope - approximately 5-1/4" x 13" - is shown. It has a window in it, through which may be seen a happy rabbit. The magician removes the rabbit placard(made from heavy duty bristol board) from the envelope to reveal the entire rabbit. The rabbit placard is shown freely, then placed back into the envelope which is then placed onto the table in full view. Next, the magician shows a folding bristol board strip with four magic top hats - each a different color. The magician asks the audience what their favorite color is, and they shout "Red". The strip depicting the hats is folded up, and when it is re-opened, the Red hat has VANISHED! The placard with the happy rabbit is now removed from the envelope - which is now seen to be empty - and the placard now shows the happy rabbit sitting in his new Red top hat!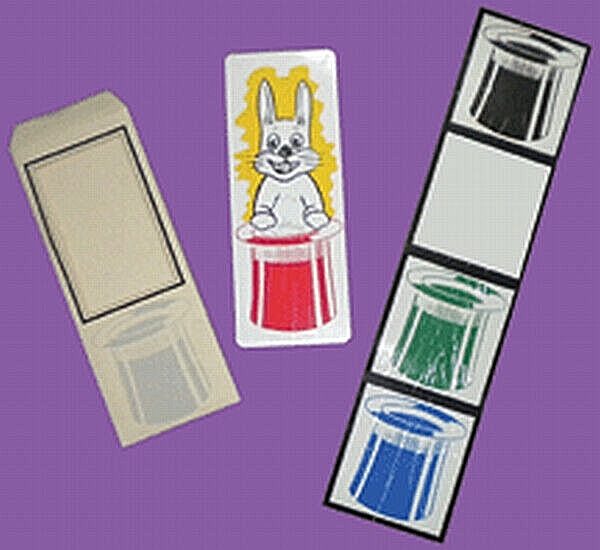 This is not only a WONDERFUL, colorful kidshow effect, and it is SO easy to do! It's virtually self-working! And, best of all, it fits the old working pro requirement of "pack flat - play big"!
This is a LOT of kidshow comedy magic for a small price. Includes illustrated instructions.
$14.95
PLEASE NOTE - If you are not ordering for U.S. delivery, you MUST contact me BEFORE ordering to determine shipping options and rates. The flat rate postage fee DOES NOT APPLY to orders shipped OUTSIDE the United States. Simply send me a list of the items you wish to order and I'll get back to you with the shipping options and rates. Once you decide how you'd like the order shipped, I can send a PayPal invoice directly to you (or we can work out other payment arrangements, if necessary). Thank you!
Bunny Hats
Product Code: BH - MB4
Availability: 1