This vintage set of Chinese Sticks would be a delight for the collector!
I do not know who made these, but they are clearly modeled on the highly desirable Silent Mora handmade Chinese Sticks. I've owned several sets of Mora sticks over the years and these are very similar. In fact, the only real difference I can see is that these do not have Mora's usual inscription down the sides, nor do they have the little ivorine tabs at the ends of the strings. The sticks have clearly been restrung at some point, so it could be that they did have ivorine tabs at one time and they broke or were lost. I know the sticks were restrung at some point as one of them was restrung with the tassel at the top and the bead at the bottom. You can tell because this set is made correctly with one side of the bamboo "tube" flattened so the sticks can be held perfectly aligned. Of course, it's possible that they were strung this way on purpose so the sticks could be used "stacked"...held with one on top of the other, rather than holding them side by side. I have seen one old time performer use sticks in that fashion.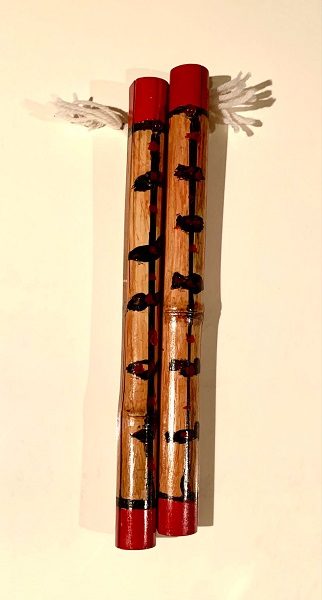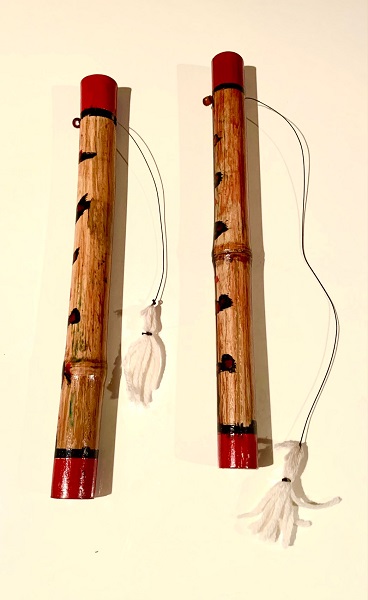 I would suggest that whomever buys this set restring them correctly. Of course, they display beautifully and if you don't intend to perform with them, you don't need to do a thing. On the other hand, if you wish to use them, they need re-stringing, as not only is one stick strung upside down, but the string is shorter than the string in the other stick. Of course, this isn't a big deal...ten minutes of "arts and crafts" will have this set back in order and working just fine. I might also mention that there is some minor splitting on both sticks, as is the usual case with real bamboo sticks. This can be left as is (it doesn't affect the operation and isn't noticeable except upon close examination), or you can apply a little bit of glue and some clamps and close up the splits. It's up to the buyer.
Even with the aforementioned caveats, it's STILL an amazing set that displays beautifully and would be a lovely addition to any collection.

As with most items in the "Used/Collectable" section, I have ONE set only. If you're interested in the set of pro sticks, DON'T delay!
$79.95
PLEASE NOTE - If you are not ordering for U.S. delivery, you MUST contact me BEFORE ordering to determine shipping options and rates. The flat rate postage fee DOES NOT APPLY to orders shipped OUTSIDE the United States. Simply send me a list of the items you wish to order and I'll get back to you with the shipping options and rates. Once you decide how you'd like the order shipped, I can send a PayPal invoice directly to you (or we can work out other payment arrangements, if necessary). Thank you!
Real Bamboo Chinese Sticks (Mora?)
Product Code: RBCS - MBSid
Availability: 1