These special decks were acquired from the "lost" inventory of Hollywood Magic. The Ron Chapman Rising Cards were exclusively made for them way back when!
Back when these were made, they were the best of the BEST! I have just a couple of decks available, and they are NOS (New Old Stock) direct from Hollywood Magic!
The decks are made of Poker Sized Bicycle Rider Back Blue Seals! These were originals when they were still printed in Cincinnati Ohio! The seals were opened when Ron originally made these decks, but the tuck cases and decks are all new.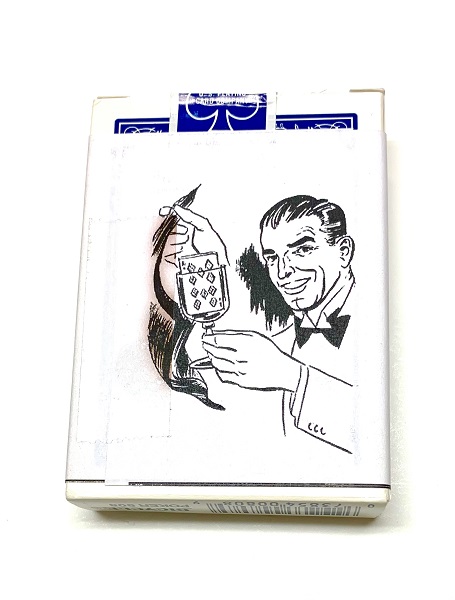 These come with the original instructions that tell you the effect, apparatus description, preparation and presentation!
Effect: Three cards are chosen and returned to the deck. Each card rises out of the deck in its own mysterious way! They are in MINT, UNUSED condition!
Watch this vintage video of the legendary Don Alan performing this classic effect:
The Ron Chapman Rising Cards are manufactured from Bicycle Poker-size playing cards. Top quality and 100% self-working, the deck will do ALL of the work for you...all you really have to do is remember the sequence of the presentation!

You receive the very special deck and complete instructions only... Please supply your own favorite glass if you wish to do that version of the routine.
$27.95
PLEASE NOTE - If you are not ordering for U.S. delivery, you MUST contact me BEFORE ordering to determine shipping options and rates. The flat rate postage fee DOES NOT APPLY to orders shipped OUTSIDE the United States. Simply send me a list of the items you wish to order and I'll get back to you with the shipping options and rates. Once you decide how you'd like the order shipped, I can send a PayPal invoice directly to you (or we can work out other payment arrangements, if necessary). Thank you!
Rising Cards - Ron Chapman
Product Code: RCRCB - MB20
Availability: 1
Related Products