This time-honored classic is the perfect lead-in for any card trick or routine!
When you're ready to do a card trick you simply remove the ordinary cards from a normal size cardbox. Instantaneously, the cardbox shrinks to half it's original size!
With this new one-handed version, you can remove the cards with one hand and simultaneously set the now-shrunken cardbox down with your other hand!
Now...here's the best part of all...there is NO sleight of hand necessary! If you can remove a deck of cards from a cardbox, you can do this trick! And believe me, the shrinking card case never fails to get a strong reaction!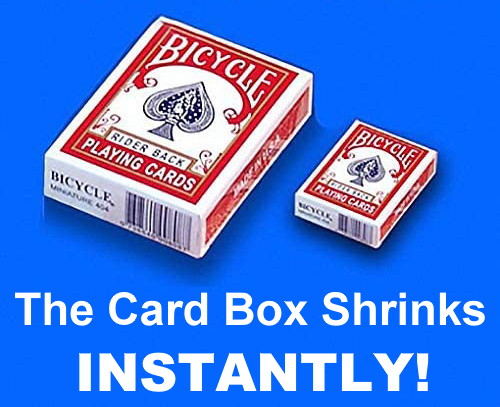 Comes complete with specially-gimmicked card case and instructions. (Use your own regular deck)

Suggested retail price is $14.95. Buy one from me for only:
$9.95
PLEASE NOTE - If you are not ordering for U.S. delivery, you MUST contact me BEFORE ordering to determine shipping options and rates. The flat rate postage fee DOES NOT APPLY to orders shipped OUTSIDE the United States. Simply send me a list of the items you wish to order and I'll get back to you with the shipping options and rates. Once you decide how you'd like the order shipped, I can send a PayPal invoice directly to you (or we can work out other payment arrangements, if necessary). Thank you!
Shrinking Card Box
Product Code: SCB - MB11
Availability: 1