I love this! It's a cute trick that appeals to all ages...especially kids. And adults. And the oldeters! And everyone else in between!
You display two white sponge balls, one in each hand. Next, the balls are placed together between the hands and given a "magical shake"! When the hands are opened, the audience sees a jumbo white bunny rabbit!
The bunny is as cute as a....well, a bunny! He's got beady little eyes and a sweet pink nose. Careful...your spectators will want to take him home!
You receive the special sponge prop, ready to use. It is just the PERFECT size, easy to carry in your pocket. The bunny is approximately 4″ long by 2" wide by 2-1/2" high.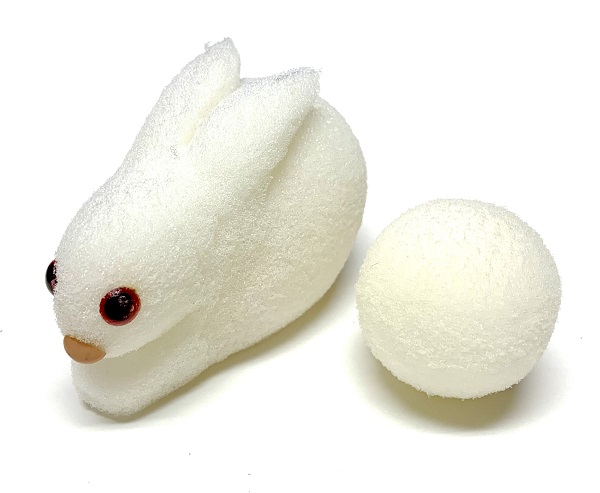 Note : This item is hand crafted from a superior quality sponge, of a grade previously not available in this country. With a little care this will last a very long time.
Ideal for kidshows and birthday parties, and also table hoppers and close-up performers. Supplied complete and ready to use, with instructions.
$14.95 EACH
PLEASE NOTE - If you are not ordering for U.S. delivery, you MUST contact me BEFORE ordering to determine shipping options and rates. The flat rate postage fee DOES NOT APPLY to orders shipped OUTSIDE the United States. Simply send me a list of the items you wish to order and I'll get back to you with the shipping options and rates. Once you decide how you'd like the order shipped, I can send a PayPal invoice directly to you (or we can work out other payment arrangements, if necessary). Thank you!
Sponge Balls to Bunny
Product Code: SBTB - MB13
Availability: 1
Related Products