Here's a real
rarity
! This is a
Theo Mack & Son
price list that accompanied their little "red book" ventriloquial figure catalog. The "red book" catalog is scarce enough, but these price lists are even
HARDER
to find!
This 100+ year old piece of ephemera has the usual red staining which virtually all of them have, as a result of being in contact with the catalog itself, which was a bright red in color and obviously had some sort of seriously staining ink used for the cover. That red dye they used must've been more potent than Red Dye #4!!!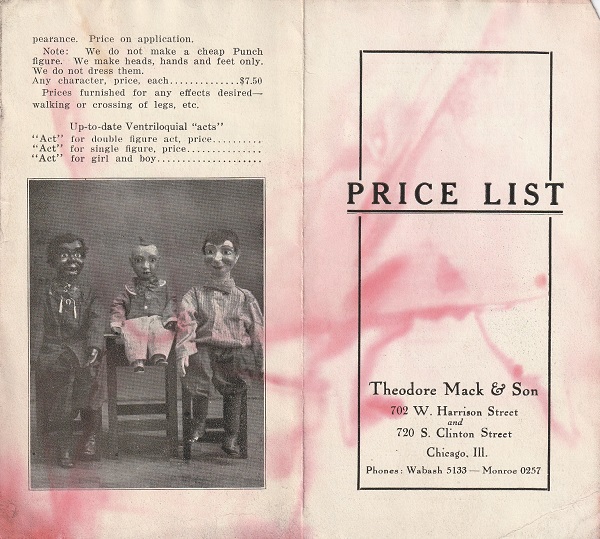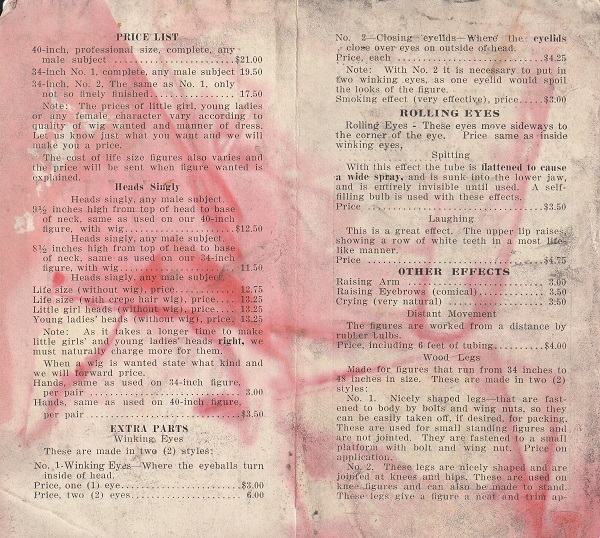 Despite the ink staining, the information on the list is clearly legible and a MUST HAVE for serious vent figure collectors... particularly if they have a MACK figure!
Measures 3-1/2" x 6-1/4 - when opened up it measures 7" x 6-1/4".
Supplied in a protective archival mylar sleeve.
$35.00
PLEASE NOTE - If you are not ordering for U.S. delivery, you MUST contact me BEFORE ordering to determine shipping options and rates. The flat rate postage fee DOES NOT APPLY to orders shipped OUTSIDE the United States. Simply send me a list of the items you wish to order and I'll get back to you with the shipping options and rates. Once you decide how you'd like the order shipped, I can send a PayPal invoice directly to you (or we can work out other payment arrangements, if necessary). Thank you!

Theo Mack & Son Catalog Price List - RARE!
Product Code: TWASPL - VB18
Availability: 1
Related Products
Tags: Mack, Theo, ventriloquist, ventriloquial, figure, dummy, catalog, Marshall