Here's a comedy classic for you! Three scarves hang from a large wooden pole; two red and one green. The pole is also green, so this would make an ideal addition to your holiday shows!
The performer states he can make the green scarf on the end jump to the opposite end. The performer now passes the rod behind his back...when he brings it back out, the green silk is, indeed, at the opposite end! This is repeated several times.
Naturally, the audience quickly determines that the performer is simply turning the wooden pole end-for-end behind his back and pretending that the green scarf has jumped! To being the laugh-filled routine to a magical and fun finale', the green scarf instantly jumps to the middle position...VISIBLY! If desired, the pole with the pole with the silks may then handed out for full examination by the audience!
The silks are reinforced in the wood by small plastic rings for long life! Silks measure 18' and the wooden pole measures 13-1/2" long by 1-3/8" diameter.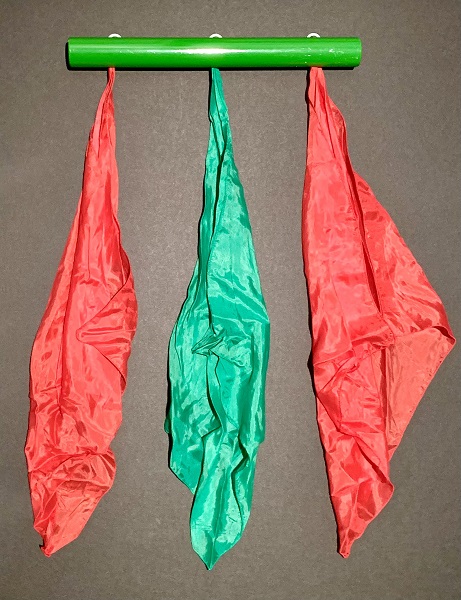 Absolutely ideal for for close-up, platform or stage, kids or adults. (PLEASE NOTE - The trick itself is in virtually new condition, with a couple of tiny marks on the wooden pole from storage. The original instructions are not present, but I will include a set of instructions from another manufacturer's version of the trick with the exact same method).

PLEASE NOTE - This is in my "Used/Collectible" category...meaning I have this ONE only and do not know when or even IF I will have another.. When it's gone...it's GONE! If you're interested in it, please don't hesitate!
Retail from most dealers is in the $24.95 - $30.00 range. Own this today for only...
$19.95
PLEASE NOTE - If you are not ordering for U.S. delivery, you MUST contact me BEFORE ordering to determine shipping options and rates. The flat rate postage fee DOES NOT APPLY to orders shipped OUTSIDE the United States. Simply send me a list of the items you wish to order and I'll get back to you with the shipping options and rates. Once you decide how you'd like the order shipped, I can send a PayPal invoice directly to you (or we can work out other payment arrangements, if necessary). Thank you!
Acrobatic Silks
Product Code: AS - MBSid
Availability: 1
Tags: acrobatioc, silk, silks, magic, trick, comedy, kidshow