Ambi Ring is a wearable modern take on the famous optical illusion, the Ambiguous Cylinder. Depending on your angles, this ring can be perceived in one of two ways -- a circle or a square.
This tactile piece of illusion is meant as a conversation starter or can be applied to your favorite ring routine. The Ambi Ring was precisely designed from the ground up with high quality stainless steel.
What's included in the box: A high-grade stainless steel ring (silver). A matching chain necklace. Link to online video instructions.
The Ambi Ring is a wearable version of the AmbiguousCylinder optical illusion. This is a high quality ring designed to be a conversation piece for lovers of magic, puzzles, and optical illusions. This ring can be used with your favorite finger ring magic, and Patrick includes some ideas in the instructional video. The illusion is very cool!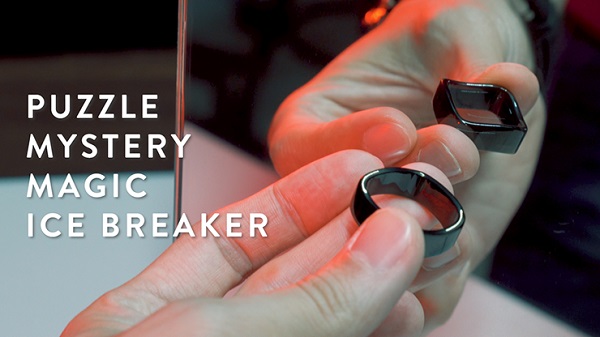 Great for people who love puzzles, magic, and optical illusions. Ideas for routines included in instructions. Very well made; comes with a matching chain
Suggested retail price is $35.00. I have only a couple acquired from a closed magic shop.... While they last, I'll let them go for:

$24.50
PLEASE NOTE - If you are not ordering for U.S. delivery, you MUST contact me BEFORE ordering to determine shipping options and rates. The flat rate postage fee DOES NOT APPLY to orders shipped OUTSIDE the United States. Simply send me a list of the items you wish to order and I'll get back to you with the shipping options and rates. Once you decide how you'd like the order shipped, I can send a PayPal invoice directly to you (or we can work out other payment arrangements, if necessary). Thank you!
Ambi Ring - Patrick Kun
Product Code: AR - RB3
Availability: 2