CREDIT CARD LOCK PICK SET
Tired of being locked out when you forget your keys? Want to be able to open a lock when someone says, "You're a magician....let's see YOU open it!"? Here's the perfect solution for you!
This Pro Credit Card Lock Pick Set is a full sized lock pick set hidden inside what appears to be a credit card. At 1/8" thick, it is only a little thicker than a normal credit card. The back of the "card" slides off to reveal four different style lock picks and a double sided tension tool. The picks are stamped from strong, solid steel sheeting and boast hundreds of uses.
This set fits perfectly in your wallet, so it's always ready when you are.
But what if you don't know how to pick locks? NO WORRIES! This fantastic set also includes a free book, "The Beginner's Guide to Lock Picking." It'll have you opening locks in no time at all!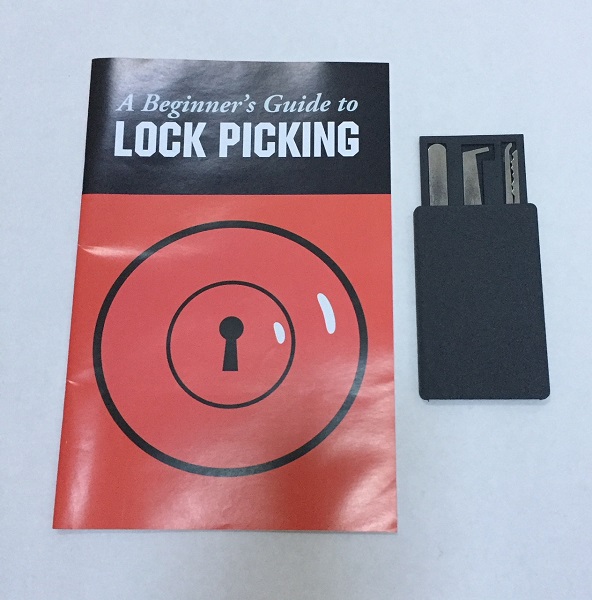 I have only a few of these from a special buy several years ago. They are in my "Used/Collectible" category. If you want one, DON'T HESITATE!
$19.95
NOTE -- These picks and the booklet are for ENTERTAINMENT PURPOSES ONLY.

PLEASE NOTE - If you are not ordering for U.S. delivery, you MUST contact me BEFORE ordering to determine shipping options and rates. The flat rate postage fee DOES NOT APPLY to orders shipped OUTSIDE the United States. Simply send me a list of the items you wish to order and I'll get back to you with the shipping options and rates. Once you decide how you'd like the order shipped, I can send a PayPal invoice directly to you (or we can work out other payment arrangements, if necessary). Thank you!
Credit Card Lock Pick Set
Product Code: CCLPS - MB20
Availability: 1
Tags: Credit Card, LockPick, magic