Austin Phillips' "Punchline Pals" were the hit of this year's annual VENT HAVEN Ventriloquists ConVENTion. They were the very focal point of the dealer's room where Austin was located! Everyone who walked by admired them and most had to pick one up and give it a try. Everyone who saw them and handled them had the exact same reaction: Wow! It's no surprise that they all went home with very happy owners.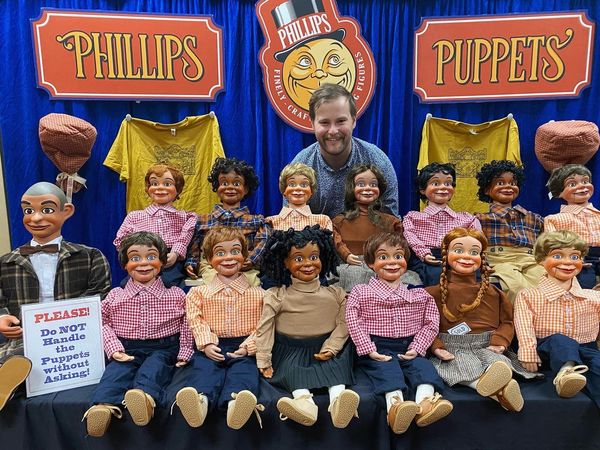 And now Austin has made more!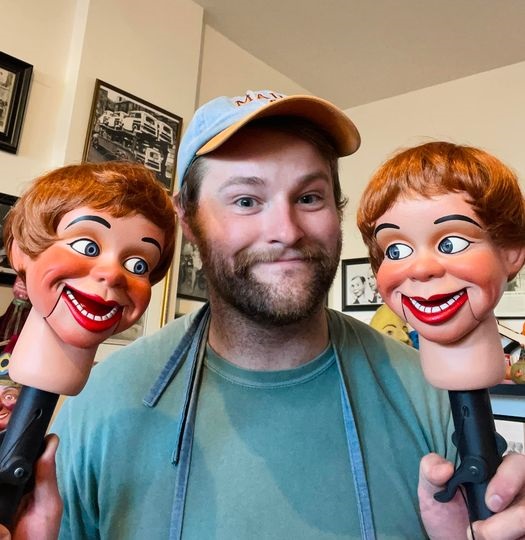 While the Punchline Pal is a stock figure (in that each figure comes from the same mold), they are also very individual. Each character features its own wig, eye color and paint scheme. This has enabled Austin to offer a true professional quality ventriloquial figure at a beginner puppet price!

Jeff Dunham himself selected one of Austin's new Punchline Pal creations to highlight during his annual workshop. The audience loved the character Jeff created on stage!

Standing just 32 inches high, the Punchline Pal is the perfect size for an adult ventriloquist who wants a more portable figure. This figure is ideal for walk-around and close-up ventriloquism, and it also easily fits in a small case for transport in the overhead bin of an airplane. In addition, it's small enough that even a child can use it as a first figure! The child will be able to grow with the Punchline Pal by his or her side and never have to change puppets.

Each Punchline Pal professional quality puppet head is cast from a high quality, durable resin. The body is made in the traditional style of the old masters: a lightweight, wooden torso with stuffed cloth arms and legs. The hands are cast from the same material as the head. Each character features side to side eye movement and mouth movement, controlled by triggers on the headstick. The trigger for the mouth movement is easily switched from one side of the headstick to the other, depending on whether the ventriloquist prefers using the thumb or forefinger for the control. Each character features Austin's well-known beautiful oil paintjob along with a high-quality wig and high-quality clothing. The controls are silky smooth and will please even the most finicky ventriloquist!

These professional ventriloquial puppets have a charm and likability that will win over even the most jaded audience. Just bring it out from the case and you will immediately hear oooh's and ahhh's. And their diminutive size accentuates their impish nature! Simply put, you will love performing with your new Punchline Pal!

Austin has very kindly allowed me to list one of his characters on my site for my customers to see. This sweet little girl character is available immediately. She is sitting here on the sofa in my studio, ready to travel to you and become an immediate hit in your show!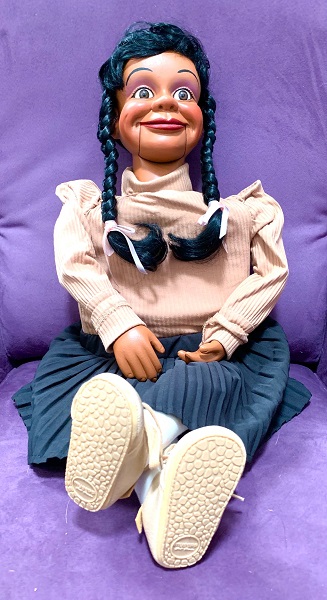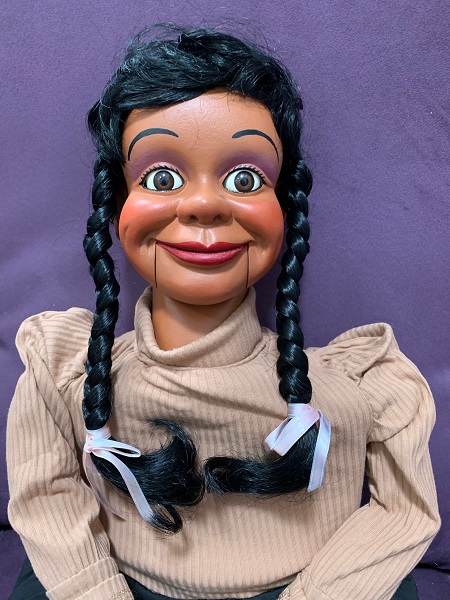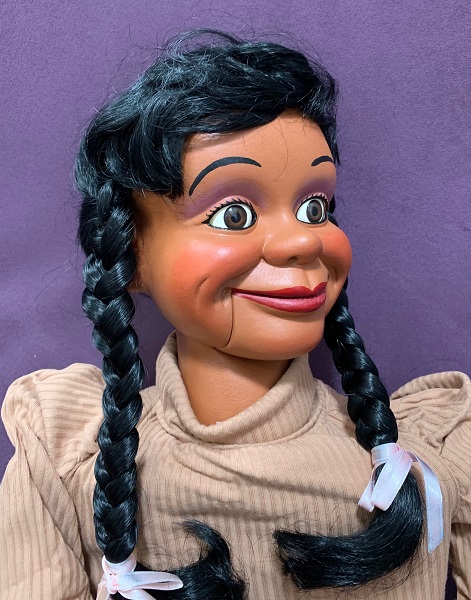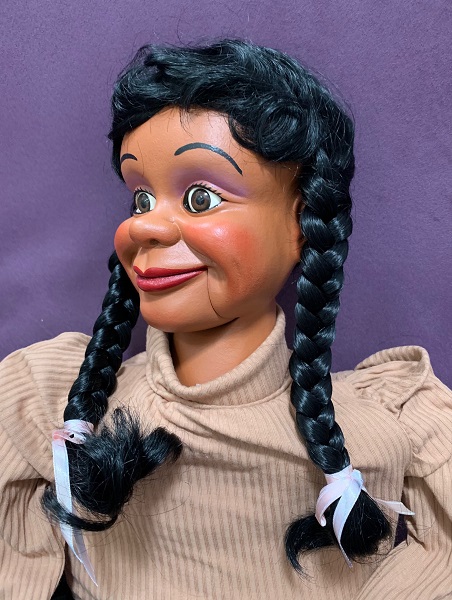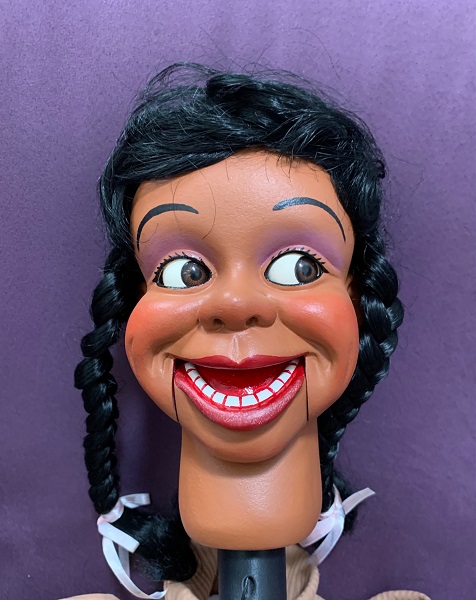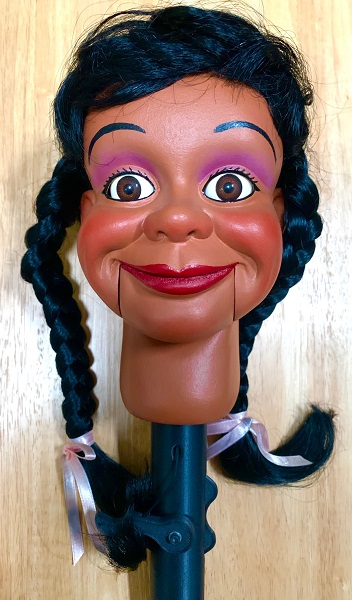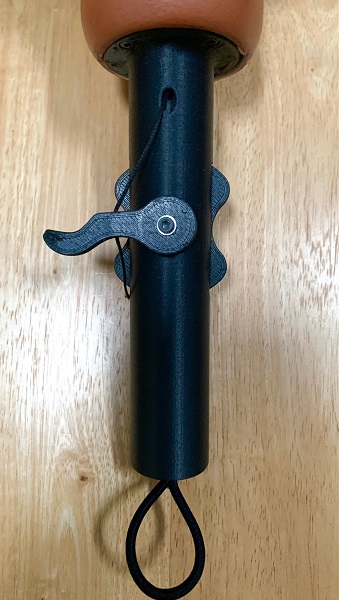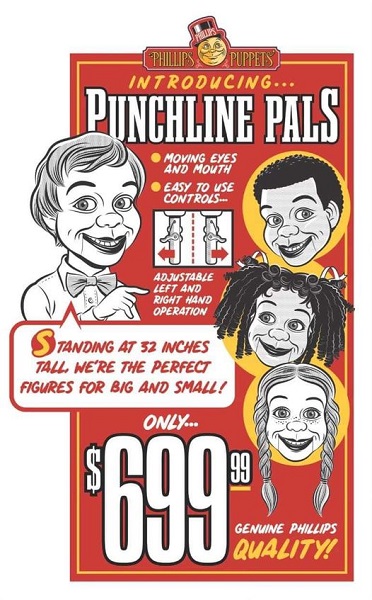 Please Note: The shipping cost for this purchase will be determined by your location. The $8.00 flat rate shipping charge that I use for most of the packages on my site does NOT apply to this shipment. Please contact me BEFORE ordering so that I can offer you the best shipping options.

$699.95

PLEASE NOTE - You MUST contact me BEFORE ordering to determine shipping options and rates. The flat rate postage fee
DOES NOT APPLY
to this puppet. Simply send me your shipping address and I'll get back to you with several shipping options and rates. Once you decide how you'd like the order shipped, I can send a PayPal invoice directly to you (or we can work out other payment arrangements, if necessary). Thank you!
Ventriloquial Figure - Punchline Pal - Made by Austin Phillips
Product Code: VF~PP
Availability: 1
Tags: ventriloquist, dummy, puppet, austin, phillips, punchline, figure