This is a truly gorgeous professional vent figure that was a special custom order from Selberg studios. It was created for use on a television show and used only twice. The ventriloquist decided to no longer use the figure, as he couldn't develop the proper character for it. His loss is your gain! Below are a few descriptor points from Tim's own website )in blue). Below that I will cover a few more points. See bottom of the page for photos....

CREATION: Tim sculpts the heads from wood in the traditional method using chisels and a mallet. He meticulously hand-carves every custom head from a laminated block. After many, many hours of instinctive and painstaking work, a distinct personality emerges. Additional time and care must be taken to carve and work with the grain and individual characteristics of wood as well as the fine detailing and special sealing considerations that wooden figures require. Once the carving and fine hand sanding have been completed, the head is carefully treated with a durable protective coating, ensuring a very long life for your investment.

SPECIFICATIONS: Each figure is a one-of-a-kind original, created especially for the customer. Standard features include moving mouth/jaw and fluid ball and socket head movement.
DELIVERY: Since each figure is designed, hand-carved, and hand built from scratch, Custom Figures are a very time consuming proposition to create. Due to Tim's high demand for custom work and the accompanying waiting list, there is generally a period of up to one year or more from the time you place your order until construction begins. Wait time is also affected by the mechanical complexity and number of extra effects ordered.
No expense was spared in the creation of this masterpiece. This figure is simply stunning. From her sweet face to her intricate mechanics, she is no doubt one of Tim's finest. While she was ordered as and is currently wigged as a little girl character, replacing the wig and clothing can easily transform her into as little boy character.
She features the following animations:
Moving head on a headstick.
Moving mouth.
Side-to-side eye movement (self-centering).
Wide-eye animation.

Blinkers.
Left winker - right winker.
Raising eyebrows.
Lowering (frowning) eyebrows.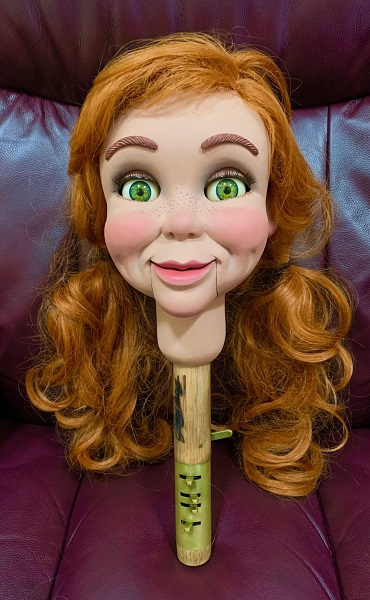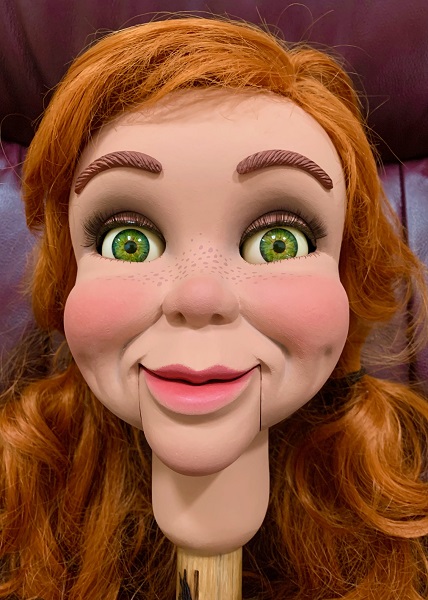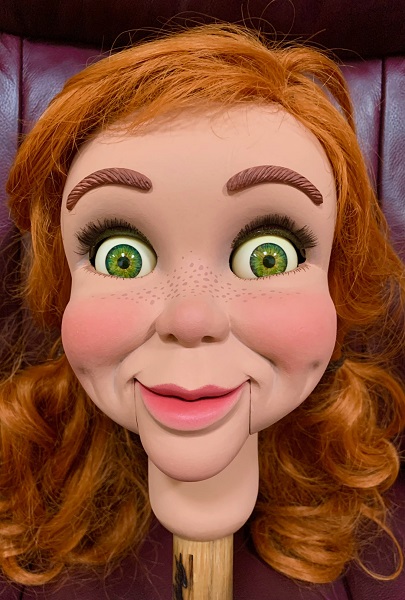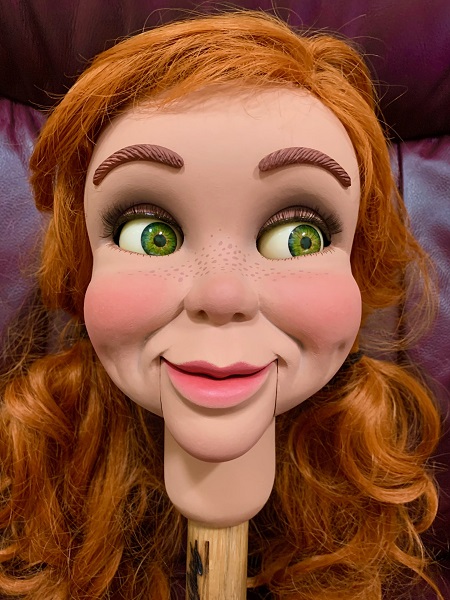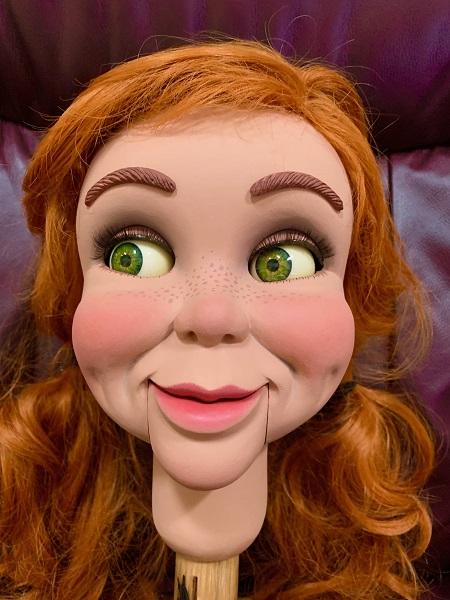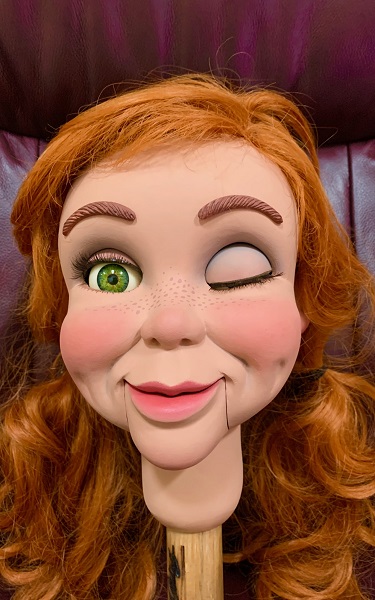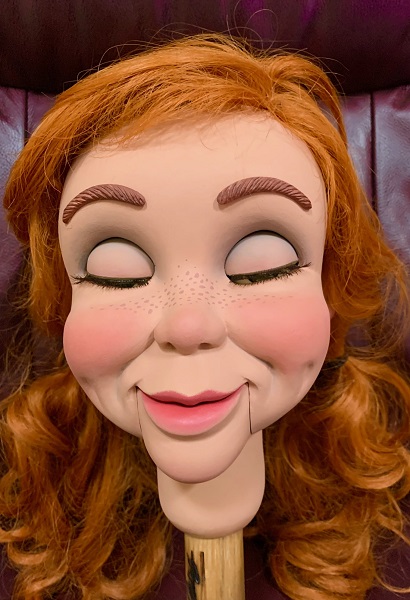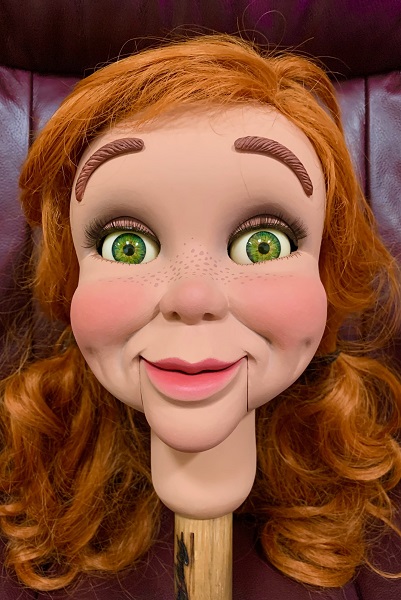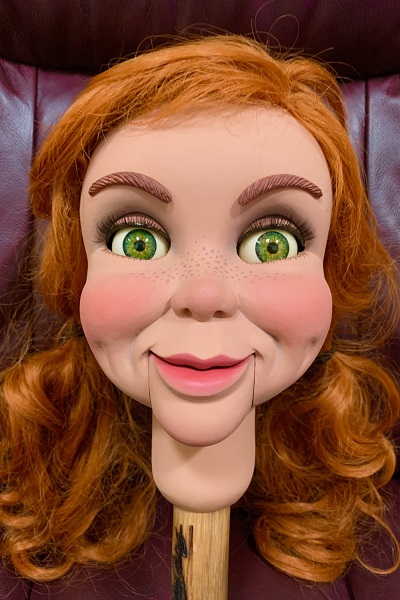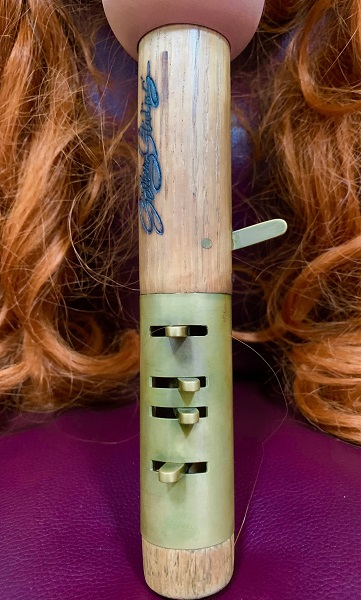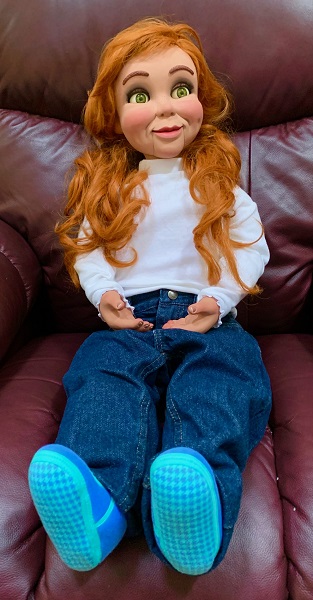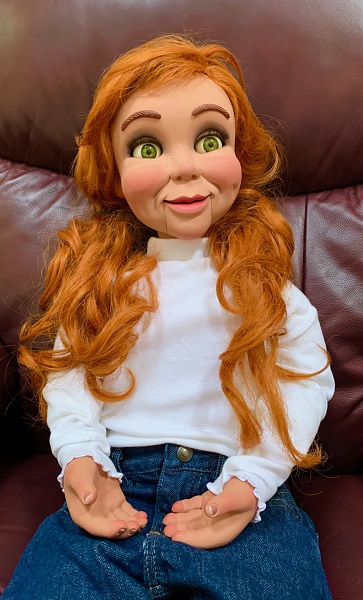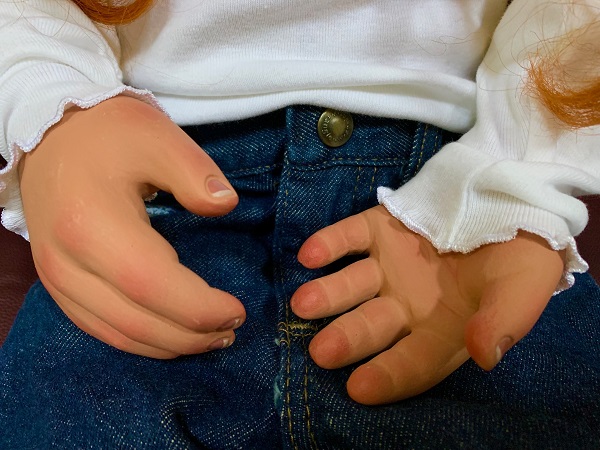 Pleased note, this figure is equipped with Tim's highly desirable Generation 1 trigger controls. They are as smooth as silk and ergonomically perfect!
Custom hand-carved wooden figures from Tim start in the $7500 range. In addition to the base price, this figure features more than $1500 worth of extra animations. This figure originally cost in the $10,000 range. It is in absolutely mint condition and is being offered for half the original price. In addition...it is available for immediate delivery... No long wait!

Please feel free to contact me if you have any questions. (If you're not already familiar with Tim Selberg's extraordinary work, I urge you to take a look at his website for additional information).
I'm happy to discuss the possibility of YOU owning this amazing Selberg figure!
$4995.00 (plus actual shipping charge to your destination - See note below).

Please Note: The shipping cost for this purchase will be determined by your location. The $8.00 flat rate shipping charge that I use for most of the packages on my site does NOT apply to this shipment. Please contact me BEFORE ordering so that I can offer you the best shipping options.

$4995.00

PLEASE NOTE - You MUST contact me BEFORE ordering to determine shipping options and rates. The flat rate postage fee
DOES NOT APPLY
to this puppet. Simply send me your shipping address and I'll get back to you with several shipping options and rates. Once you decide how you'd like the order shipped, I can send a PayPal invoice directly to you (or we can work out other payment arrangements, if necessary). Thank you!
Ventriloquial Figure - Custom Little Girl - Made by Tim Selberg (Selberg Studios)
Product Code: VF~SF
Availability: 1
$4,995.00

Ex Tax: $4,995.00