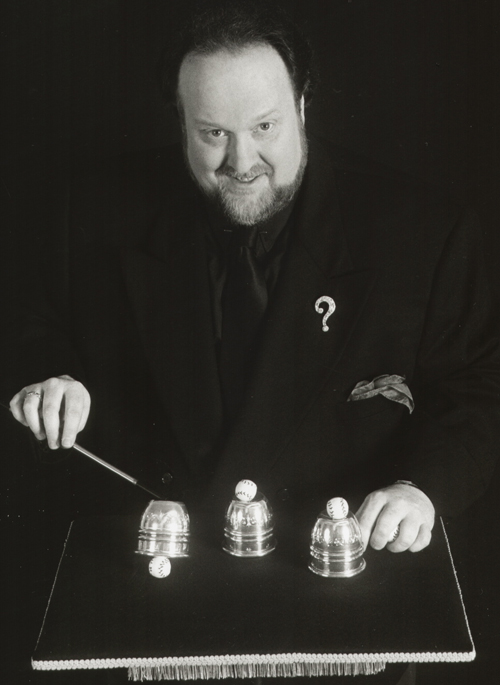 Hi folks! I'm Tom Ladshaw.
That's me there in the photo with the cups and balls. Those aren't just ANY cups and balls, either... that's a Danny Dew set of Paul Fox cups. And they aren't just ANY Danny Dew cups, either... they're Danny's own personal set! And no, they're not for sale... Sorry! That's also me with my buddy Stanley in the other photo. And before you even ask... Yes, I know which one's the dummy!
Welcome to my little corner of the worldwide web!
You may have seen me performing my comedy magic and ventriloquism at any one of hundreds of venues around the country. Or...you may have met me at one of the magic conventions...or perhaps at the annual Vent Haven ConVENTion for ventriloquists. I'm lucky enough to be able to squeeze in those convention visits between my performing schedule. And when I'm not working...what do I do? I SELL, buy, and collect MAGIC and VENTRILOQUIANA, of course!
This is the place where I list some of the magic and vent-related items I try to keep in stock at all times. These include some of my best sellers and favorites. In addition, I'll try to always have some rare and collectable items listed on the site.

If this is your first time doing business with me, you should know that I've been in this unusual business since 1986. Whether working for other magic shops or for myself, I've been around this business a long time. Many of my customers have been with me for years. They like the way I do business. If there's ever a problem (rare, but it happens to all of us), I FIX it. My customers like the fact that I occasionally offer items you can't find elsewhere, so please keep checking back from time to time to see what I've found. One hundred percent customer satisfaction is my goal. Thanks for taking the time to read this and to look at the items I have available on this site. I hope you'll find something you like. If you don't see anything right now, don't worry...I'll keep adding items. I can't wait to meet and do business with you!
An unsolicited testimonial: "Want to thank you for the best service ever in my 50 plus years of buying magic props! ... I'm only sorry that I did not know about your magic business until now. Looking forward to future purchases from Tom Ladshaw Magic!" - Randon Jesser (Ohio)

Another unsolicited testimonial: "Your shop (and you by proxy) have provided me with the best customer experience I have ever received from any online purchase ever, period. I hope you continue to thrive in these difficult times and I will make sure to send all those interested in magic purchases your way." - J.S. (Australia)
Yet another unsolicited testimonial: "Tom, I placed my first order with you because of the quality of your products and more than competitive pricing. I have returned as a customer because of your service, and even if your prices were higher than another company offering the same product, I would still buy it from you because of the excellent service you provide. My orders are always delivered promptly, and you nearly always reduce my postage charge, something I'm sure you do manually, which you are not obligated to do. This speaks volumes about your character as a person and businessman, and if for no other reason than this, I will continue to be a customer. Thank you, Jeff" - Jeff Hurt (Texas)
And STILL another unsolicited testimonial: "Two things will keep me coming back to your site: You have things which are unavailable anywhere else and are very competitively priced. But also, and more importantly, your customer outreach and service is superb. It is a pleasure ordering from you." - Eric Eck (California)
And FINALLY...to sum up: "Just emailing to let you know that my order arrived today safe and sound. As I've come to expect, your (replica) coins look sensational and the shells are perfect! ... your stuff is great and so is your service!" - Gary Kornfield (Colorado)
Wait...one MORE unsolicited testimonial!: I really like buying from you because you provide great customer service and good prices! And you are a great source of information! - Millard Longman (Florida)

Last Updated December 9 2023