FINALLY BACK IN STOCK!

This is the pro worker's version of a pocket trick usually known as "Coin Squeeze". Why is it better than the run of the mill version? Well, it's precision-machined to match our Buddha coin box. It's a real beauty and feels nice and "chunky" in your hands! No doubt about it... it's a pro prop all the way around!

You will be proud to own and perform this fine effect for years to come! Imagine - it's a visible penetration of four coins right through through solid brass! Let your spectator assemble the two brass rings and the solid brass plug into one single tube. Three or four borrowed quarters (your choice) are placed into the tube and are stopped from going all the way through by the thick brass plug that blocks the center. But at your command, the coins pass, one by one, through the solid brass and into the spectator's hand! Finally you can disassemble the tube to produce a gold ingot, a cube, a sponge ball or other small items.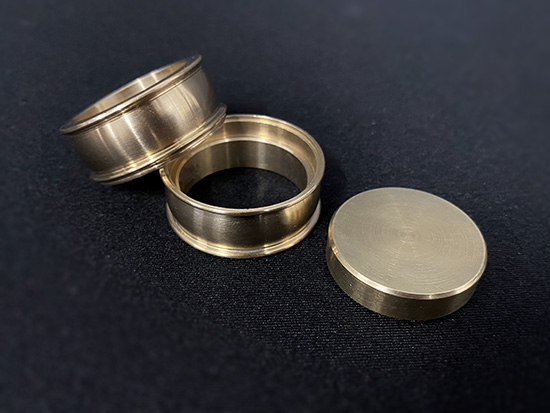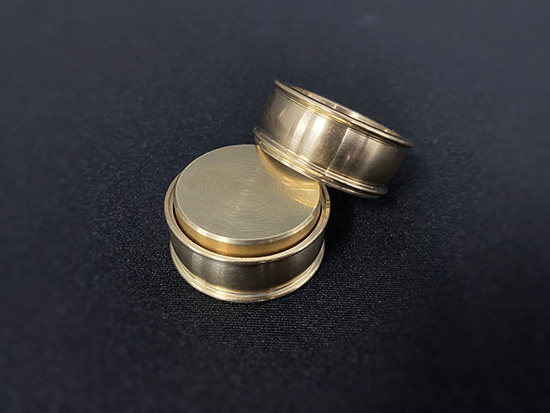 Surprising and - best of all - very simple to do! I used to perform this when table-hopping and it got reactions all out of proportion to the simple handling!
Here are two different demo's.... a tabletop version and a nice in-the-hands version:
Comes with the brass parts and a link to an on-line video tutorial. You supply your own U.S. quarter-sized coins (may be borrowed for performance) and any final "production" items you may wish to produce.
Retail is $19.95. Own one today for only...

$14.95
PLEASE NOTE - If you are not ordering for U.S. delivery, you MUST contact me BEFORE ordering to determine shipping options and rates. The flat rate postage fee DOES NOT APPLY to orders shipped OUTSIDE the United States. Simply send me a list of the items you wish to order and I'll get back to you with the shipping options and rates. Once you decide how you'd like the order shipped, I can send a PayPal invoice directly to you (or we can work out other payment arrangements, if necessary). Thank you!
Connoisseur's Coin Conveyance
Product Code: CCC - RB28
Availability: 5