This fantastic oversized book is one of the cleverest things I've ever seen in the "do it yourself" vent figure field! This is a volume in the British "Make a Model" series. This particular book gives you not only a crash course in the basic essential techniques of ventriloquism (written by long-time British pro vent Dennis Patten), but it also includes routines AND the parts to make a FULL-SIZED vent figure's head!
Also includes instructions on making the figure's body out of household articles, plus tips on costuming, etc. Also included are "acccesories" to change the dummy's appearance... you can even make it into a girl! This clever cardboard figure not only opens and closes its mouth via a lever on the head stick, but it also opens and closes its eyes!
Spend a couple of hours with this book, a good pair of sharp scissors (or a craft knife), a tube of quick-drying glue and a straight edge (ruler) and you'll be in business with your very own vent figure!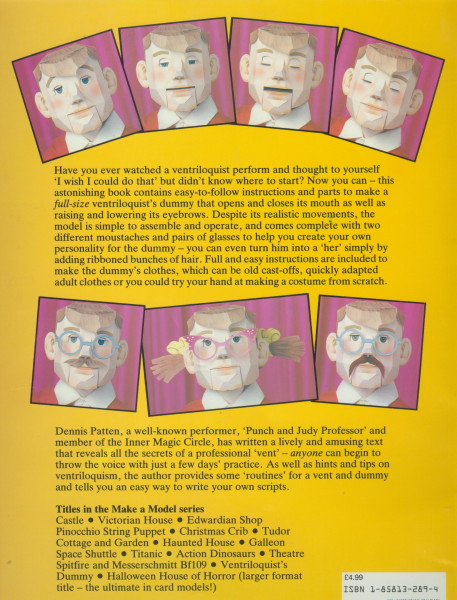 This SCARCE book measures approximately 9-1/4" x 12-3/4" with 16pp of "how to do vent" plus instructions on making the figure, plus ten heavy cardstock pages in full-color with the parts for the dummy's head and hands. In near mint condition.
$25.00
PLEASE NOTE - If you are not ordering for U.S. delivery, you MUST contact me BEFORE ordering to determine shipping options and rates. The flat rate postage fee DOES NOT APPLY to orders shipped OUTSIDE the United States. Simply send me a list of the items you wish to order and I'll get back to you with the shipping options and rates. Once you decide how you'd like the order shipped, I can send a PayPal invoice directly to you (or we can work out other payment arrangements, if necessary). Thank you!

Make a Fully-Working Ventriloquist's Dummy - Book by Dennis Patten
Product Code: MAFWVD - VB14
Availability: 2
Tags: Ventriloquism, Patten, ventriloquist, dummy, figure, how to