JUST ARRIVED -- BACK IN STOCK! Also known as the Super Triple, Transient Coins, Three Way Split and probably more!
This "double split" coin is made as thin as possible and uses the worlds thinnest (yet strongest) magnets. The coins easily "lock" together as one but are just as easily separated to become THREE coins.
This top notch Morgan Dollar replica set (which matches all of my other Morgan coins and sets) includes two head-side coins and one tail-side coin.
These fine replicas of U.S. Morgan Dollars are the HOT new thing for coin workers. Why risk losing valuable keepsake coins - an investment of literally hundreds of dollars - when you can use a perfect substitute? Your audiences will NEVER know!
These museum-quality replicas are made from brass and are individually very lightly "weathered", as real coins of this era would be. You can polish them or leave them as is. These are the BEST replicas available. (There are several different grades out there...don't make the mistake of buying the clunky ones from some dealers who should know better!)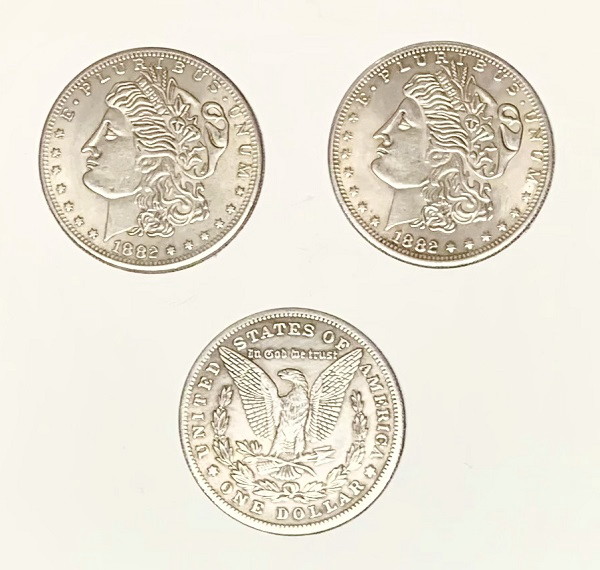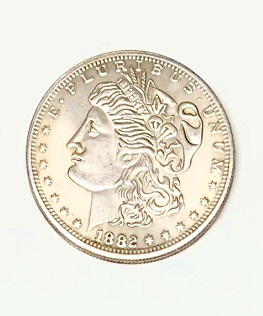 Photos above show the three coins separated and magnetically "locked" together as a single unit.

Please NOTE: No instructions are provided with this pro quality gaffed coin, but I assume that if you want it, you know what to do with it! For inspiration, you can watch many, many wonderful routines utilizing this amazing "triple coin" on YouTube.

Made up in real Morgan dollars, this set sells in the $150 - $175 range. You may own this replica set for much, much less!

$44.95
PLEASE NOTE - If you are not ordering for U.S. delivery, you MUST contact me BEFORE ordering to determine shipping options and rates. The flat rate postage fee DOES NOT APPLY to orders shipped OUTSIDE the United States. Simply send me a list of the items you wish to order and I'll get back to you with the shipping options and rates. Once you decide how you'd like the order shipped, I can send a PayPal invoice directly to you (or we can work out other payment arrangements, if necessary). Thank you!

Morgan Dollar Replica Triple Whammy Coin Set
Product Code: MDRTWCS - RB11
Availability: 5
Related Products