A COMPLETE SELL-OUT at EVERY Vent Haven ConVENTion since 2016! .... NEW COPIES HAVE ARRIVED and it's available NOW!
"Uncle" Bill DeMar (1931-2015) was an icon among ventriloquists. Known for his amazingly-lifelike manipulation of his puppets and his attention to the smallest of details, Bill was a crowd favorite no matter where he performed. And he performed everywhere. From banquets to revue shows to school shows to theaters to nightclubs, he lived the life of a show biz pro. He traveled internationally with the Ink Spots and the Harmonica Rascals. He was performing at Jack Ruby's Carousel Club when President John F. Kennedy was assassinated and was later interviewed by the Warren Commission. Bill lived an amazing life with a common thread throughout... his love of performing ventriloquism and his desire to help others learn it.
This book is an expanded, updated edition of three other projects Bill and I (tom Ladshaw) produced previously. "Ventriloquism... and Related Subjects" contains complete instructions on how to become a ventriloquist (speaking without moving the lips, developing character voices, etc.), plus professional advice on many related additional topics (sound, lighting, the breath, wardrobe, props, manipulation of puppets, the distant voice, introductions, soft puppets, overcoming stage fright, and much, much more). If you've ever thought you'd like to learn to be a ventriloquist, Bill's method is easy to learn and SURE-FIRE. If you know someone who is interested in learning the unique art of ventriloquism, this detailed book would be a wonderful gift.
In addition to the "how-to" section, you'll read Bill's life story in his own words. You'll see Bill's "photo scrapbook", including many previously unpublished photos from Bill's lifetime career, starting with his days in the U.S. Army's Special Services Entertainment Unit. Also included are what Bill liked to call "nuggets"... bits of wisdom and advice from a long-time working pro.
Features a Foreword by Jeff Dunham and an Introduction by Jimmy Nelson. This 8-1/2" x 11", 130 page book with more than 100 photos is Bill's legacy to the ventriloquist community. Whether seasoned pro or brand new beginner, there's invaluable "must have" information here for everyone.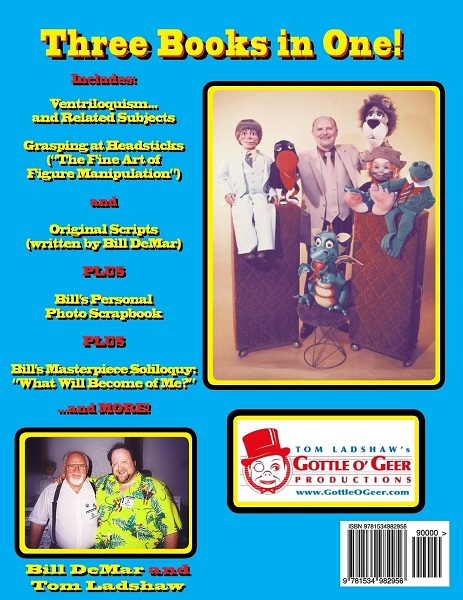 EACH COPY OF THE BOOK COMES WITH A "SAMPLE" DVD, FEATURING BILL WITH SOME OF HIS ZANY CHARACTERS.
NOTE - I will be happy to sign your copy of the book. Just ask!
$19.95
PLEASE NOTE - If you are not ordering for U.S. delivery, you MUST contact me BEFORE ordering to determine shipping options and rates. The flat rate postage fee DOES NOT APPLY to orders shipped OUTSIDE the United States. Simply send me a list of the items you wish to order and I'll get back to you with the shipping options and rates. Once you decide how you'd like the order shipped, I can send a PayPal invoice directly to you (or we can work out other payment arrangements, if necessary). Thank you!
Ventriloquism ...and Related Subjects: The Life and Legacy of Bill DeMar as Told to Tom Ladshaw - Book
Product Code: VARS - VB4
Availability: 9
Related Products
Tags: ventriloquism, demar, ventriloquist, biography