Now you can have *six* outs folded up inside your wallet at all times!
This all-new version is made out of tear-proof and waterproof tyvek. It is 8.5 x 5.5 inches when it is open and 2.75 x 4.25 inches folded up. You can easily open to any one of the six outs with the exact same handling every time.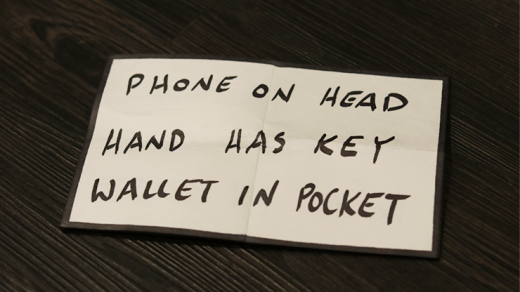 Included with your purchase is one handmade gimmick and a on-line tutorial video (may be downloaded) where Blake takes you through step-by-step how to handle your Six Outs Mini gimmick. He also explains, in detail, multiple thought-out and audience-tested routines. In addition, you will learn an all-new routine where the spectator can freely place 3 objects in 3 locations and you guess the outcome EVERY time!
Ask your spectators any questions having 1 in 6 outcomes and watch their minds explode when you are correct EVERY single time... with Six Outs Mini.
Retail is $59.95. Own one today for only...
$49.95
PLEASE NOTE - If you are not ordering for U.S. delivery, you MUST contact me BEFORE ordering to determine shipping options and rates. The flat rate postage fee DOES NOT APPLY to orders shipped OUTSIDE the United States. Simply send me a list of the items you wish to order and I'll get back to you with the shipping options and rates. Once you decide how you'd like the order shipped, I can send a PayPal invoice directly to you (or we can work out other payment arrangements, if necessary). Thank you!
6 Outs Mini - Blake Vogt
Product Code: SOM - RB20
Availability: 2