These new Chinese Production coins are just gorgeous! They are a bright brass and feature a black lacquered background. Each coin is HEAVY.... this 5" size weighs seven and a half ounces (nearly half a pound!). If you ever wanted to perform the Fred Kaps Chinese Coin Production but couldn't find an original outfit, NOW you can finally obtain the Chinese Coins in the proper size!
Photo below shows the three sizes available: 2-1/4" -- 3-1/8" -- 5". [NOTE -- A larger size - 11-1/4" and weighing more than five and a half pounds! - is available by special order. I do not usually stock it - please inquire for pricing. ]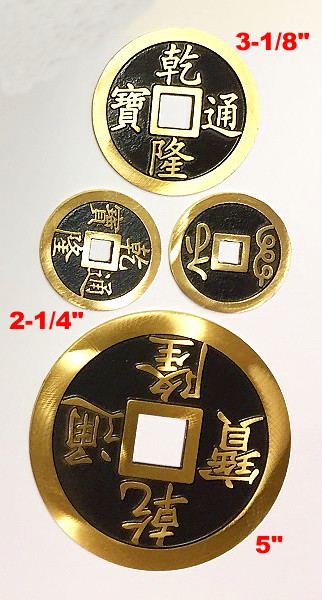 My price...
$34.95
PLEASE NOTE - If you are not ordering for U.S. delivery, you MUST contact me BEFORE ordering to determine shipping options and rates. The flat rate postage fee DOES NOT APPLY to orders shipped OUTSIDE the United States. Simply send me a list of the items you wish to order and I'll get back to you with the shipping options and rates. Once you decide how you'd like the order shipped, I can send a PayPal invoice directly to you (or we can work out other payment arrangements, if necessary). Thank you!
Chinese Deluxe Production Coin - 5"
Product Code: CDPC3 - CC1
Availability: 2
Related Products