Why has no one ever thought of this before? This is the classic "Hopping Half" set, but with one of the coins having a HOLE through it! The gaff is ingenious and while it's a type of gaff that has seen use in other coin tricks, it's never been applied to the Hopping Half set. And this one single idea puts this trick over the top and makes it 100% BAFFLING!
These special coin sets are fantastic quality and I highly recommend them...I'm using a set now myself! In addition, the large dollar size makes this classic routine a visual delight! The Chinese coin is a work of ART..... you'll love it's antique look! This set uses a replica Morgan Dollar, but they are the absolute best quality replicas available. Your audiences will NOT know the difference (well, unless you've got a serious coin collector as a spectator and you let him examine it closely!).

The effect is classic: An American Morgan dollar and a dollar size brass Chinese coin are shown freely on both sides. The Morgan dollar is placed in your pocket, as you ask, "What coin is left in my hand?" The spectator answers, "The Chinese coin!" You now open your hand to show that BOTH coins are STILL in your hand! This is repeated with the Chinese coin going into your pocket, and then finally again with the Morgan dollar. For the baffling finish, you remove the Chinese coin, show both sides of it and place it into your pocket. You ask which coin remains in your hand. At this point, most spectators will say, "You still have BOTH coins!" Now you slowly open your hand to show it completely empty!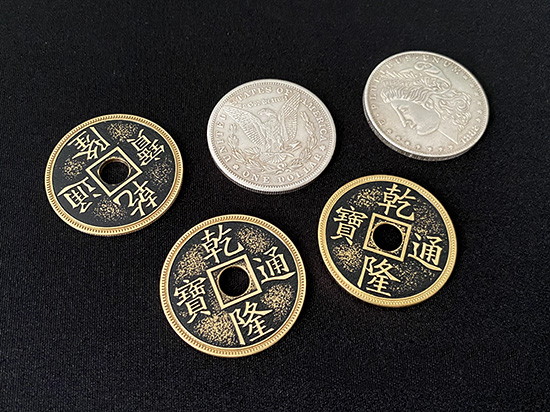 And remember....there is NO sleight of hand necessary to perform this routine! If you can hold the coins, you can do the trick. In fact, you don't even have to hold the coins! I personally prefer to have the coins next to each other on my close-up pad and cover them with a playing card.
Take a look at this demo:
This set works exactly like the standard Hopping Half set (it just uses larger coins). But the fact that the Chinese coin has a hole in it is what elevates this to KILLER material! Think about it! The coins are precision-manufactured especially for this routine and are works of art! This outfit includes all of the necessary coins and gaffs, the carry case, and link to a detailed on-line video tutorial.
The retail price for this set is $69.95. Order one from me for only...
$49.95

PLEASE NOTE - If you are not ordering for U.S. delivery, you MUST contact me BEFORE ordering to determine shipping options and rates. The flat rate postage fee DOES NOT APPLY to orders shipped OUTSIDE the United States. Simply send me a list of the items you wish to order and I'll get back to you with the shipping options and rates. Once you decide how you'd like the order shipped, I can send a PayPal invoice directly to you (or we can work out other payment arrangements, if necessary). Thank you!
Hopping Chinese Coin Set -- Morgan Dollar & Chinese Coin
Product Code: HHCSMDCC - RB25
Availability: 8
Related Products
Tags: hopping, half, halves, coin, coins, magic, money, Morgan, dollar, Chinese