This is a wonderful vintage Winchell/Mahoney toy circa mid-1950's.
If you were a Winchell/Mahoney fan during that period, you just HAD to have one of these cool keychains... even if you had no keys to put on it!
This miniature ventriloquial head works perfectly...the mouth opens and closes and the eyes move side-to-side, all controlled from the tiny "headstick."
This is "new/old" store stock....these keychains were the "bulk" versions that usually showed up in gum machines or in bins in "five and dime stores" (remember those?).
These keychains did NOT originally come with the backing card that the individually-packaged versions came with. BUT.... I'm going to include an original, vintage backing card that was ALSO a warehouse find!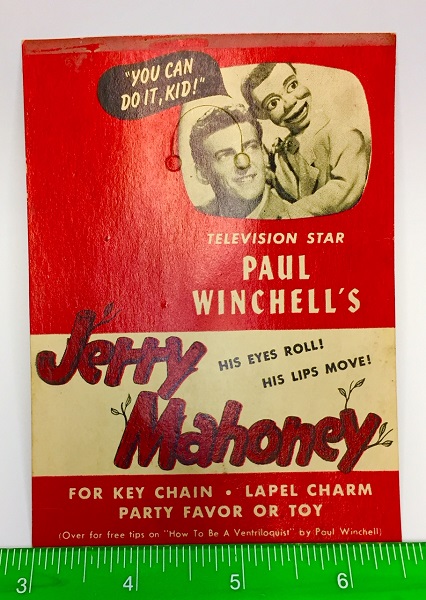 The keychain head itself is in mint condition, as is the original backing card. The verso of the card has "How to Be a Ventriloquist" instructions from Winch himself.
$25.00
PLEASE NOTE - If you are not ordering for U.S. delivery, you MUST contact me BEFORE ordering to determine shipping options and rates. The flat rate postage fee DOES NOT APPLY to orders shipped OUTSIDE the United States. Simply send me a list of the items you wish to order and I'll get back to you with the shipping options and rates. Once you decide how you'd like the order shipped, I can send a PayPal invoice directly to you (or we can work out other payment arrangements, if necessary). Thank you!

Jerry Mahoney Articulated Keychain with Original Card
Product Code: JMK - DD
Availability: 4
Related Products
Tags: ventriloquism, Winchell, Mahoney, puppet, toys, vintage, keychain