As with all of Bumper's silk and cloth magic, this blendo is top quality and extremely well-made.. Designed and created for the professional and made to last.
The effect is a classic! Show a small black cloth bag approximately 9" x 9" and drop in some items (red, white, and blue silks, or cards, or...?). Suddenly, the bag and its contents completely vanish and transform into a large American flag measuring approximately 22" x 34"!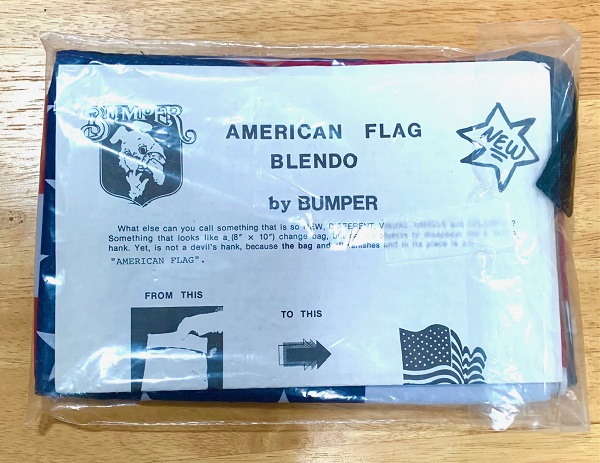 No longer manufactured. New/Old store stock with original instructions. Unused.
Similar versions (and not as nice, frankly) sell for as much as $49.95. I'll let this one go for:

$34.95
PLEASE NOTE - If you are not ordering for U.S. delivery, you MUST contact me BEFORE ordering to determine shipping options and rates. The flat rate postage fee DOES NOT APPLY to orders shipped OUTSIDE the United States. Simply send me a list of the items you wish to order and I'll get back to you with the shipping options and rates. Once you decide how you'd like the order shipped, I can send a PayPal invoice directly to you (or we can work out other payment arrangements, if necessary). Thank you!
American Flag Blendo - Bumper Magic
Product Code: AFB~B - TSB
Availability: 1
Tags: american, flag, blendo, silk, bumper, magic, trick, illusion, transformation, kidshow