Not since the days of Carl Brema have you seen precision workmanship like this! You show a small brass tube and a steel ball bearing; the ball bearing is quite obviously too large to fit inside the tube....it simply rests atop the tube. Now for the magic! On your command, the ball bearing slowly sinks down into the tube! Next, the ball bearing slowly and mysteriously rises back to the top of the tube. You now immediately hand out the props for examination! They will find nothing, and will not be able to get the ball to go into the tube – it won't fit.
Now read this....there is NO switching and NOTHING to ditch! The reset is instant. The improved locking system makes this classic examinable before AND after the performance.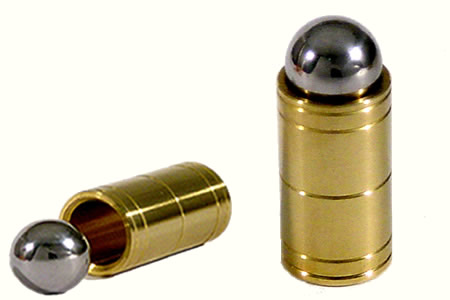 I have only a few of these, so have listed them in the "Used/Collectable" section, even though they are BRAND NEW. When they are sold, there will be NO more!
Precision-made prop plus photo-illustrated instructions and velveteen pouch for safe transport. Suggested retail is $34.95.
Own one today for only...
$22.50

PLEASE NOTE - If you are not ordering for U.S. delivery, you MUST contact me BEFORE ordering to determine shipping options and rates. The flat rate postage fee DOES NOT APPLY to orders shipped OUTSIDE the United States. Simply send me a list of the items you wish to order and I'll get back to you with the shipping options and rates. Once you decide how you'd like the order shipped, I can send a PayPal invoice directly to you (or we can work out other payment arrangements, if necessary). Thank you!
Ball and Tube - Brass - Locking
Product Code: BATBL - RB2
Availability: 1
Tags: ball, tube, penetration, magic, trick