This precision piece of magic defies all possible logic! A beautifully-machined brass plunger, a brass cup and a steel ball make up what will be a thoroughly baffling piece of theatrical magic for you.
Effect: The performer displays a solid brass plunger and a solid steel ball. The ball is dropped into a shallow brass cup (just large enough to hold the ball), which is resting atop the back of the performer's hand. The plunger is used to press the ball 'flat' into the cup...or so they think! The plunger is removed from the cup and the ball is seen to have vanished! But wait....it hasn't vanished....it suddenly drops from the performer's hand which it has apparently penetrated!
This may read simple but the effect on your audience is staggering. Simply put, this is an impossible feat!
This is a lovely piece of close-up conjuring that you will use often. Collectors have bought these for their beauty alone (not to mention their future collectable value!). Each outfit is hand polished and fitted for beauty and precision.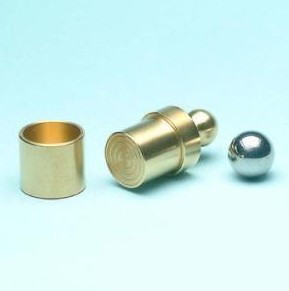 Comes complete with brass plunger, cup, steel ball bearing and special "reset tool", all in a velveteen carrying pouch. Also comes with detailed instructions. Easy to do - self-working - and resets in seconds.
This is one of the most visually impossible penetrations ever created. It may be done close-up and surrounded. And what's more, everything may be examined!
I have only one of these, so have listed it in the "Used/Collectable" section, even though it appears to be brand new. When it sells, I do not know when or even IF I will have another!
Suggested retail is $64.95.
Own one today for only...
$34.50
PLEASE NOTE - If you are not ordering for U.S. delivery, you MUST contact me BEFORE ordering to determine shipping options and rates. The flat rate postage fee DOES NOT APPLY to orders shipped OUTSIDE the United States. Simply send me a list of the items you wish to order and I'll get back to you with the shipping options and rates. Once you decide how you'd like the order shipped, I can send a PayPal invoice directly to you (or we can work out other payment arrangements, if necessary). Thank you!
Ball Thru Hand
Product Code: BTH - CC
Availability: 1
Tags: ball, hand, penetration