FINALLY BACK IN STOCK!!!
This package comes with three complete sets of mini card stickers, with each set containing four sheets of mini card stickers with all 52 faces of a complete deck, with 4 extra jokers, 4 extra aces, 10 red backs and 10 blue backs to create all kinds of possibilities for your special magic effects.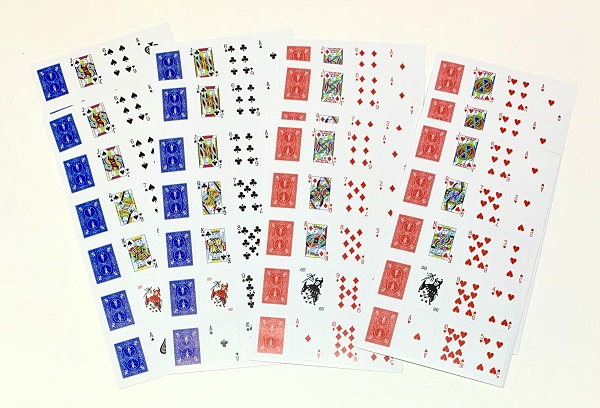 Reveal your prediction on your business card, your spectator's business card, faces of their watch, back of your mobile phone, or your spectator's phone, back of a chosen coin, a borrowed coin, a mini photo frame, a crystal ball, inside a pendant you are wearing, and anywhere you can stick the mini card on!
Create your original mini card tricks and mini gaff cards: double face, double back, mini 3 card monte, 52-on-1 card etc. You could even secretly communicate a force card to another helper by sticking it on an object or simply on your thumb for them to read. Make multiple-outs by sticking your mini cards in multiple places!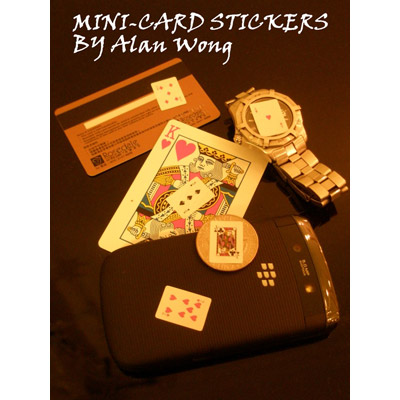 Endless possibilities only limited by your imagination
Some great magic to carry in your wallet all the time!
Each package contains three sets (12 sheets) for a total 240 card stickers. Each sticker measures approximately 3/4" tall by 5/8" wide. No instructions....use your own imagination!

$10.00
PLEASE NOTE - If you are not ordering for U.S. delivery, you MUST contact me BEFORE ordering to determine shipping options and rates. The flat rate postage fee DOES NOT APPLY to orders shipped OUTSIDE the United States. Simply send me a list of the items you wish to order and I'll get back to you with the shipping options and rates. Once you decide how you'd like the order shipped, I can send a PayPal invoice directly to you (or we can work out other payment arrangements, if necessary). Thank you!
Card Stickers - Mini
Product Code: CS~M - RB23
Availability: 6