I've been doing this routine in my own shows for more than THIRTY years! It never fails to get a HUGE response. It's commercial...it's magical...it's inherently funny...it packs flat and plays BIG! What more could you want? This routine is FIVE to SEVEN minutes of SOLID entertainment. Suitable for ALL venues and virtually ALL audiences.

You receive Fred Kaps' handling of Joe Riding's fabulous Monte trick. This is the routine that Doug Henning did on one of his early TV specials and the same one that Harry Anderson performed on network TV. It's a version of Three Card Monte, but done with FOUR cards...Four SUPER JUMBO cards (cards measure 8" x 12"). Here's a photo of the cards for comparison...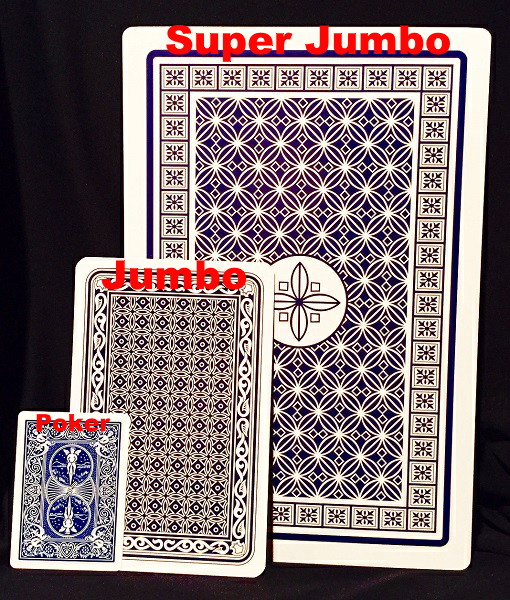 The effect: Three black cards and a single red card are shown. The spectator is asked to keep track of the red card, AKA, the "Money Card". Try as hard as he might and with you being as fair as possible, the spectator can never keep track of the "money card" during the first two phases. For the third phase finale', you offer to give the spectator "every chance in the world"... yet he STILL loses...even when you show that you're now using three RED cards and only ONE black card!
The handling is EASY...spend an uninterrupted hour one afternoon and you'll have it down COLD. The cards themselves are ungimmicked.... in fact, you could do like Harry Anderson did and toss them out into the audience. There's NOTHING to find!
Comes complete with the deluxe super jumbo cards and detailed, illustrated instructions...even the patter is included! This is a COMPLETE pro package!
I have a very limited quantity of these...I picked them up in Austria years ago and only recently discovered the small stack sitting in a box in a storage closet. When they're gone, they're GONE!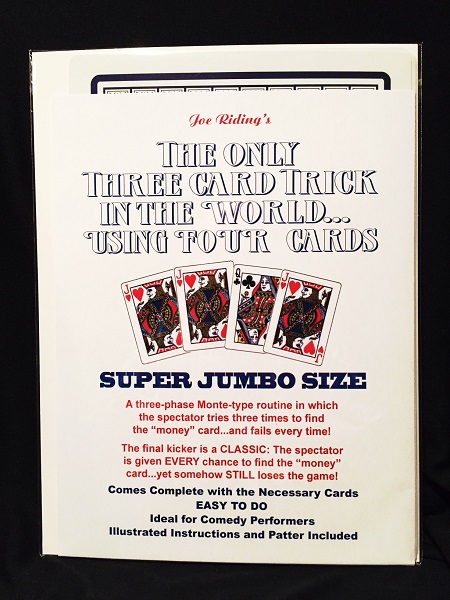 Top quality, professional entertainment for only...
$24.95
PLEASE NOTE - If you are not ordering for U.S. delivery, you MUST contact me BEFORE ordering to determine shipping options and rates. The flat rate postage fee DOES NOT APPLY to orders shipped OUTSIDE the United States. Simply send me a list of the items you wish to order and I'll get back to you with the shipping options and rates. Once you decide how you'd like the order shipped, I can send a PayPal invoice directly to you (or we can work out other payment arrangements, if necessary). Thank you!
The Only Three Card Trick in the World Using Four Cards - Super JUMBO
Product Code: TOTCTSJ - MB10
Availability: 4
Related Products
Tags: Three Card, Trick, magic, monte, Four Cards, Kaps, jumbo