Here's a gorgeous top quality reprint of the 1939 Swedish one-sheet movie poster for the Universal film, "Charlie McCarthy, Detective". The original 1939 one sheet poster that these prints were taken from was purchased at auction several years ago for more than $600.00...which seems to be about the going rate for Charlie movie one sheets. Even if you're willing to spend the money, they are sometimes hard to locate...they rarely come up at auction (and the foreign versions? Forgetaboutit!)
These limited edition reprints were done at one of the top repro houses in the U.S. The colors are vibrant and true to the original. They are printed on heavy, coated stock and will fit in a standard frame (poster measures 24" x 36")
Each poster will be shipped in a sturdy mailing tube to protect it.

These are just the thing to dress up your "Dummy Den". Below is a photo of my display of Charlie posters at last year's Vent Haven ConVENTion. This will give you an idea of the scale (my backdrop is 8' high x 15' wide).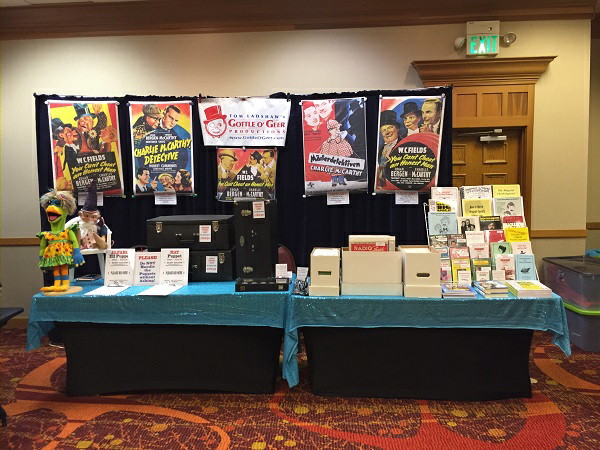 Extremely limited quantity...and when they're gone, they're GONE. They will not be reprinted.
And the price is right....

$29.95
PLEASE NOTE - If you are not ordering for U.S. delivery, you MUST contact me BEFORE ordering to determine shipping options and rates. The flat rate postage fee DOES NOT APPLY to orders shipped OUTSIDE the United States. Simply send me a list of the items you wish to order and I'll get back to you with the shipping options and rates. Once you decide how you'd like the order shipped, I can send a PayPal invoice directly to you (or we can work out other payment arrangements, if necessary). Thank you!

Charlie McCarthy Detective - Swedish Movie Poster
Product Code: CMDSMP
Availability: 1
Tags: Charlie McCarthy, Bergen, poster, ventriloquist, detective, Swedish