This was a premium offered by Chase & Sanborn Coffee Company (sponsor of Bergen's hit radio show). By sending in one dated end flap from a package of Chase & Sanborn coffee and ten cents, you could have this really nifty fork featuring Charlie wearing his iconic top hat and monocle. Using your Charlie fork made even Brussels sprouts palatable (almost)!
Chase & Sanborn offered four different pieces of Charlie flatware: The "Top Hat" and "Detective" tea spoons were the most common (though the "Detective" spoon is not nearly as common as the "Top Hat" spoon). In addition to the two spoons and this fork, you could also obtain a knife featuring Charlie wearing western garb. See my other listings for these pieces of flatware.
I have a small quantity of these forks. When you order one, I'll dig through them and pull out the best one I can find. You have my promise!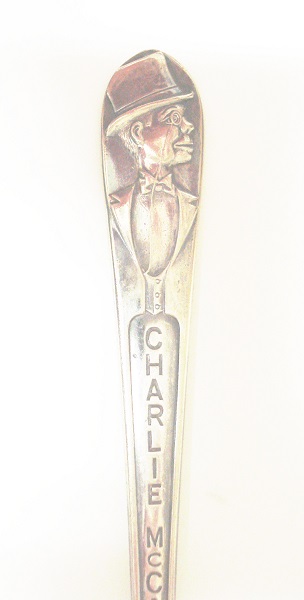 Please note - It's tough to get a good photo of these due to glare, etc. The detail on each piece of Charlie McCarthy flatware is magnificent...far better than my horrible photos show. Trust me....you WILL be delighted!
$25.00
PLEASE NOTE - If you are not ordering for U.S. delivery, you MUST contact me BEFORE ordering to determine shipping options and rates. The flat rate postage fee DOES NOT APPLY to orders shipped OUTSIDE the United States. Simply send me a list of the items you wish to order and I'll get back to you with the shipping options and rates. Once you decide how you'd like the order shipped, I can send a PayPal invoice directly to you (or we can work out other payment arrangements, if necessary). Thank you!

Charlie McCarthy Flatware - Fork
Product Code: CMF - FB
Availability: 6
Related Products
Tags: Charlie McCarthy, fork, flatware, Bergen