Here's an original UNOPENED package of play money from the Bergen merchandising machine, circa 1950's.
Just imagine hanging out with your pal Skinny Dugan and playing one of the Whitman Publishing Charlie McCarthy games, and wagering...using official Charlie McCarthy "Mazuma"! What a treat that would be!
I've got some original unopened packages of this great play money available. I love the artwork on these bills...Charlie on the front as George Washington, with Bergen, Mortimer and Effie Klinker on the back! The fun continues with phrases on the bills such as "As good as any dough...unless you try to spend it." My favorite is, "If you try to pass this bill, allow yourself plenty of time – at least 20 years!" Lots of GREAT detail on these bills...you really have to look carefully to get all of the jokes!
These packages of 20 bills are STILL SEALED in the original cellophane packages with cardboard header, just as you would bought them from the "five and dime" store 70 years ago!
It's tough to get a decent photograph of the bills themselves with the cellophane covering them...there's always a glare. So here's a photo of two "loose" bills showing them front and back...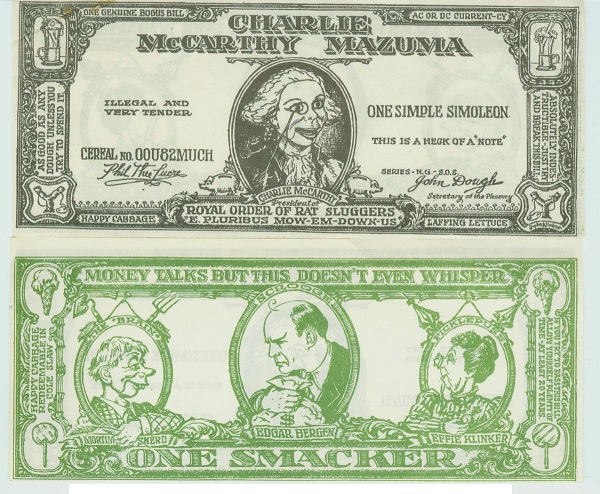 One unopened original vintage package of TWENTY BILLS of Charlie McCarthy Mazuma for only...
$10.00
PLEASE NOTE - If you are not ordering for U.S. delivery, you MUST contact me BEFORE ordering to determine shipping options and rates. The flat rate postage fee DOES NOT APPLY to orders shipped OUTSIDE the United States. Simply send me a list of the items you wish to order and I'll get back to you with the shipping options and rates. Once you decide how you'd like the order shipped, I can send a PayPal invoice directly to you (or we can work out other payment arrangements, if necessary). Thank you!

Charlie McCarthy Mazuma Play Money - Original Unopened Package
Product Code: CMMPM- VB12
Availability: 4
Tags: Charlie McCarthy, Bergen, mazuma, ventriloquist, toy, game